Watch man being waterboarded 'for fun' at Aussie music festival (VIDEO)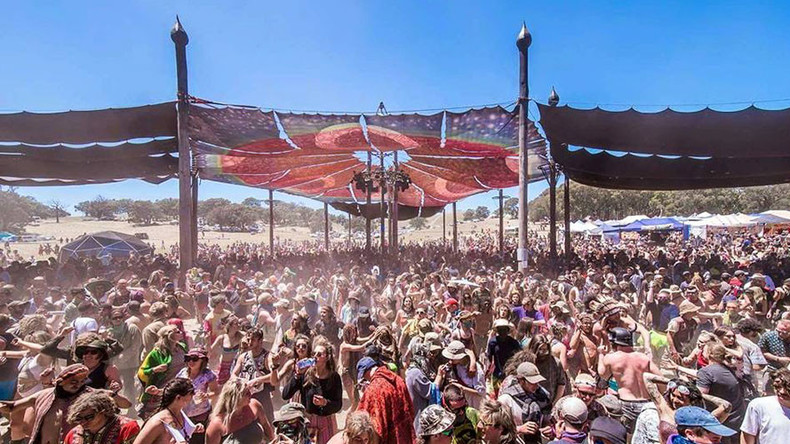 A man at the controversial Earthcore rave festival outside Melbourne has been filmed being waterboarded – a practice borrowed from CIA torture techniques – at what appears to have been an improvised attraction.
The video, which was leaked to YouTube from a private Instagram account, shows a man lying down gingerly, as his face is covered with a cloth, as a female voice in the background excitedly bellows, "Do you want some waterboarding?"

The man is then sprinkled with water from a can that soaks into the cloth, and goes down his throat and nose. After less than 10 seconds he begins to wave his hands, and rapidly elevates himself, with an uncomfortable smile, as someone shouts: "Come on man, that was nothing!"
Waterboarding was a preferred "enhanced interrogation" technique for CIA operatives working with detainees during the "War on Terror," in the early years following 9/11. UN officials have said that it meets the criteria for torture, but is not considered as such under US laws, and after being discouraged by Barack Obama, Donald Trump has said that he supports bringing it back, alongside even more forceful techniques.

Despite its wide discussion, few people know what waterboarding is, and even fewer have experienced it, with most describing it as inducing an acute drowning sensation accompanied by panic. There are several reconstruction waterboarding videos on YouTube, though none of them regard the practice as entertainment.
This particular Earthcore event in Pyalong, Victoria, one of a series of "bush doufs" – out-of-town raves – running under the same name, has already attracted negative media coverage.
A 43-year-old woman died at the site on Saturday, though organizers say that she had "an existing medical condition" and was treated within two minutes, so her death is not being treated as suspicious.
Overall, 32 people have been arrested for drunk driving during the five-day event, which has now finished, and two people have been caught with weapons.