'He went that way': Criminal tries to dupe police after hiding in pond (VIDEO)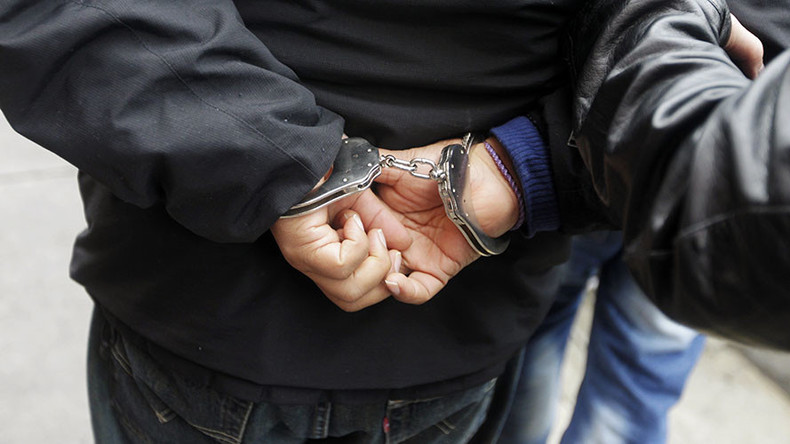 A suspected robber in Deltona, Florida tried to use the classic "he went that way" line in an attempt to foil police. The fact that he was hiding in a pond at the time probably didn't help his getaway attempt.
When discovered by police, Sean Torres told deputies from the Volusia County Sheriff's Office that "the guy who did it went that way" and claimed he was "just fishing" in the pond, although he didn't have a fishing rod.
Only minutes earlier, police were alerted about a robbery at a nearby Family Dollar store where the suspect was described as "a white male with his shirt on his head and large 'Loyalty' tattoo on his stomach."
Demanding money from the store clerk, who refused, the suspect threatened to shoot him, reaching in the back of his shorts pretending to have a gun.
The 29-year-old fled the store with no money and decided to hideout in a nearby pond.
An Air One helicopter arrived in the area and instantly spotted the individual at the edge of a pond beside the store. While the helicopter crew guided officers to catch the suspect, Torres moved from the edge of the pond into the water as deputies got closer.
READ MORE: Burglary gone wrong: Woman takes on 3 armed robbers, shoots 1 dead (VIDEO)
Realizing that he had nowhere to go, Torres surrendered and slowly made his way back to land.
"Torres was taken into custody, and while in the back of a VCSO patrol car, he repeatedly shouted and threw himself against the interior, kicking the doors, damaging the vehicle and causing it to rock," deputies said in a Facebook post.
Torres was remanded on bail of $30,500 bail at the Volusia County Branch Jail, charged with robbery and criminal mischief.
Ponds are seemingly not the best place for criminals in Florida. In December 2015, a suspected burglar in Barefoot Bay, Brevard County was reportedly eaten by an 11ft (3.4 meters) alligator after hiding from police in a pond.
"I would say it's poetic justice, you want to sit there and steal from people," a local resident said at the time.