'Not in books, but you can vote': Woman in burqa tries to vote in NYC as Clinton aide (VIDEO)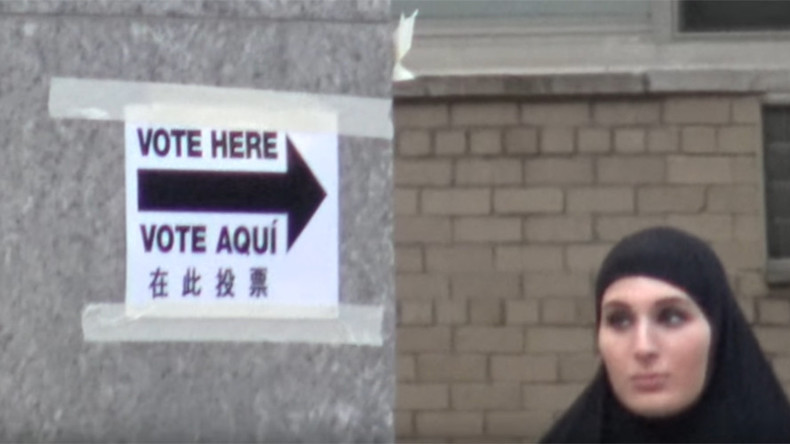 An undercover reporter dressed in a burqa and claiming to be senior Clinton aide, Huma Abedin, was offered a paper ballot when she turned up at a New York polling station wishing to cast Huma's vote.
FOLLOW RT'S ELECTION LIVE UPDATES
The incident was filmed by controversial journalist James O'Keefe's Project Veritas and posted on YouTube Monday in an attempt to expose the ease with which voter fraud can be committed.
The video shows the Huma imposter walking into the polling station in a burqa and stating her address to an election official before being directed to another clerk.
She gives her name as Huma Abedin and is told that since her name is not in the book 'for some reason', she can fill out an affidavit ballot. The official then asks the woman which party she is registered with to which she replies "Huma is a registered Democrat".
"I don't have your name in the book but you can vote with paper ballot. You just can't vote by machine," the clerk tells her.
The undercover journalist asks "So I can vote as Huma Abedin but just with the paper ballot?"
The official replies, "Whatever you want, if that's you."
"If that's the name you voted with in the last election, and you haven't changed your name," the clerk adds.
'Huma' tells the clerk she will be back after she calls her husband Anthony, referring to congressman Anthony Weiner who she announced her separation from in August after another 'sexting' scandal.
READ MORE: Weiner gets shafted: Clinton confidante Huma Abedin ditches sexting spouse
It's not clear when the video footage was recorded but a court ruling made Friday night requires election officials in New York City to give an affidavit paper ballot to voters who are not listed.
Federal judge Nicholas Garaufis ruled that the New York City Board of Elections must provide affidavit ballots to voters whose names are not listed on the registration rolls.
These paper ballots then must be verified against the Board of Elections records before they are counted. Voters are notified after the election on whether their vote has been counted.
The video also shows clips of a Project Veritas journalist in conversation with Alan Schulkin, a Democratic Elections Commissioner in New York City.
The footage was recorded last December at a United Federation of Teachers holiday party, according to Project Veritas and prompted the organization to carry out the undercover investigation.
The conversation snippets included in the footage center around voter fraud and how burqas can be used to carry it out.
"Your vote isn't really counting because they can go in there with a burka on and you don't know if they are a voter," Schulkin tells the undercover reporter.

"People think it's a liberal thing to do, but I take my voter seriously and I don't want ten other people coming in negating my vote by voting for the other candidate when there not even registered voters," he added.
Project Veritas founder James O'Keefe has previously come under attack for his undercover work carried out during the election with critics accusing him of 'selective editing'.
READ MORE: 'If I was a Hillary supporter, I'd win a Pulitzer Prize': O'Keefe to RT on exposing Democratic fraud
The journalist produced a four part video series 'Rigging the Election' which looked at what he calls a high level 'conspiracy' orchestrated for Clinton to win the election. Among his claims were that the Democrats hired people to incite violence at Trump rallies.
O'Keefe says he is committed to exposing voter fraud and claims he would win a Pulitzer if he was a supporter of Hillary Clinton.