Amish residents in Kentucky take on authorities over horse poop bag laws
Published time: 3 Nov, 2016 22:31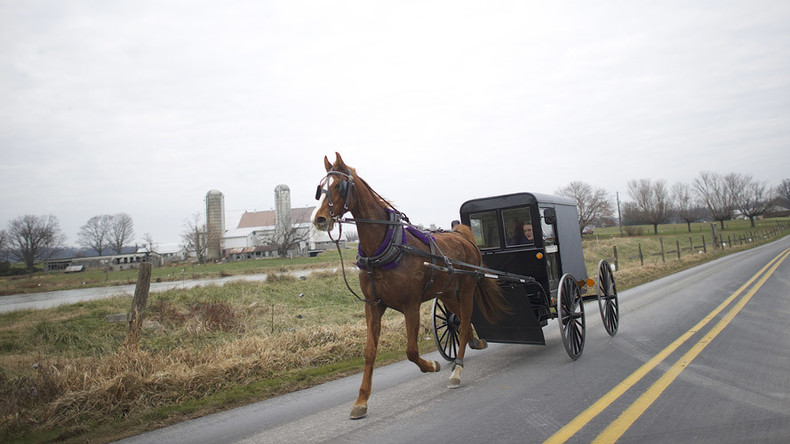 The Amish community of the western Kentucky city of Auburn is in conflict with local authorities after ignoring an ordinance which requires large animals such as horses, to wear special collection bags designed to catch their droppings.
Residents argued that the law unfairly targets their community and have said they won't comply with the rules, according to the Daily News of Bowling Green.
Many Amish have ended up in court as a result, with some even being jailed for refusing to pay fines for not conforming to the rules, but they claim putting bags on their horses could frighten the animals.
Attorney Travis Lock filed a complaint last week on the matter, stating that it is unconstitutional as it's used to "single out" the Amish community in Auburn.
READ MORE: Amish for Trump: How a brash billionaire appeals to modest country voters
"It's being clearly designed to single out the Amish and frankly, to discriminate against the Amish," Lock said. "This ordinance was passed to target this particular group of the Amish in the Auburn community and that in and of itself is unconstitutional and discriminatory."
Officials from the city maintain the the ordinance is for health and safety reasons and keeps the risk of spreading disease low.
A hearing has now been set for April 26 by Logan District Judge Kenneth Williams to hear arguments against the ordinance.
Amish communities are known for their simplistic ways of living with many residents reluctant to accept modern technology with some branches even shunning use of the internet, radios and televisions.
Modern methods of transport are also rejected with most communities opting to use a horse and cart over vehicles.
READ MORE: Amish man challenges photo ID requirement to buy firearms on religious grounds