Hey Buddy: Search continues for endangered penguin, while two charged in SA
Published time: 30 Sep, 2016 19:06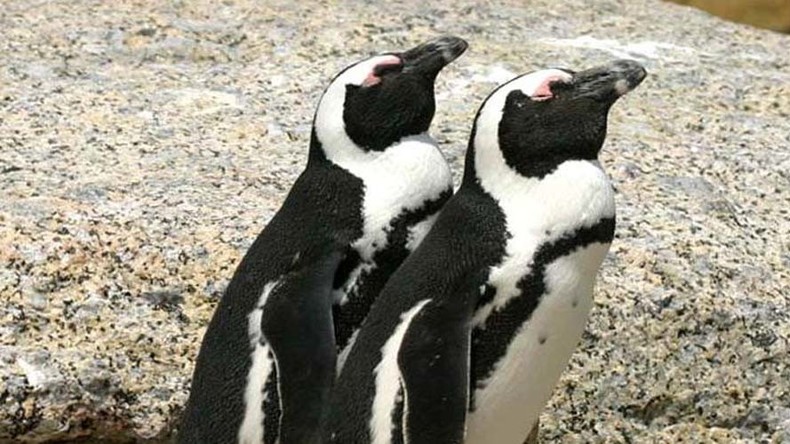 Two men have appeared in court after they "freed" an endangered penguin from a marine park in Port Elizabeth, South Africa. Buddy the penguin remains missing and his two chicks have since died in their enclosure
Buddy was taken from the Bayworld Oceanarium last week sparking urgent appeals to locate him as management warned the three year old penguin, who was born in captivity, would not be able to survive in the wild.
Two men handed themselves into Humewood police station Thursday accompanied by a lawyer. Adrian Donian, 22, and Emile du Plessis, 24 were charged with theft, contravention of marine conservation regulations and trespassing at the Port Elizabeth Magistrates Court.
Bayworld manager Dylan Bailey told AFP that the men claimed they released Buddy into the Indian ocean as a protest against animals being kept in captivity.
The men's lawyers said after the hearing that the suspects were "too traumatised" to speak to the media, according to The Herald Live which described the two accused as looking remorseful.
The case was adjourned pending further investigation and a decision by the Director of Public Prosecutions. The next sitting is scheduled for November 3.
Buddy shared his closure with his mate Frances and their two chicks. One of the chicks died Monday while the second chick died Friday, according to The Herald Live. After the death of the first chick, management said it could have been as a result of Buddy's absence, but no cause of death has been given for the second chick.
Bayworld staff and local volunteers have been searching along the coast for Buddy and are appealing for help to find the creature and ensure his safe return.
He can be identified by a tag with the number 266 on his left flipper.
African black-footed penguins, also known as jackass penguins, have been listed as endangered under the US Endangered Species Act since 2010 and the IUCN Red List of Threatened Species since 2013.
The rare bird is only found on the south-western coast of Africa and is the only penguin species that breeds in Africa