#HateWhitePeople trends as Congressman apologizes for 'racist' Charlotte comments (VIDEO)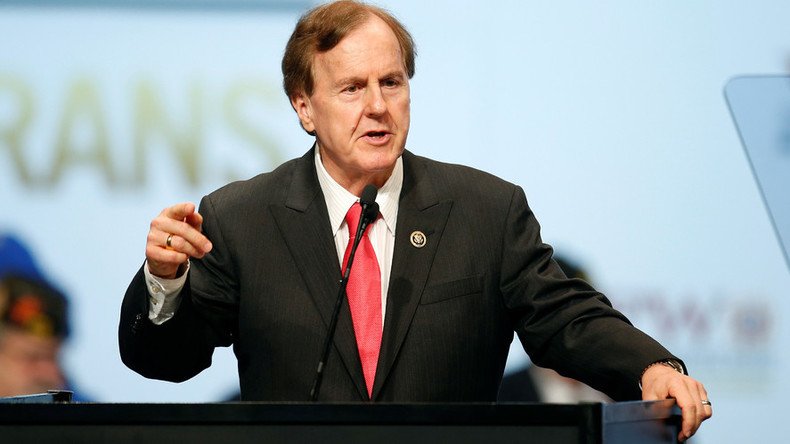 North Carolina congressman Robert Pittenger has apologized after stating in a TV interview that Charlotte protesters "hate white people because white people are successful and they're not."
The Republican lawmaker made the comments during a BBC interview broadcast in the UK on Thursday night.
When asked what he believed the causes of the Charlotte protests were, he responded; "The grievance in their minds – the animus, the anger – they hate white people because white people are successful and they're not."
He then went on to criticize the "welfare state" that he claimed has emerged in the US.
Pittenger's comments sparked an immediate twitterstorm with fellow North Carolina lawmakers blasting his remarks.
The people of NC and CLT deserve better than devastatingly ignorant and divisive comments, @reppittenger. We must move forward together.

— G. K. Butterfield (@GKButterfield) September 22, 2016
The North Carolina Democratic Party issued a statement condemning Pittenger's "racist rhetoric."
The congressman quickly issued an apology following the fallout, claiming he was quoting statements made by angry protesters and that his intent was "to discuss the lack of economic mobility for African Americans because of failed policies."
I apologize to those I offended and hope we can bring peace and calm to Charlotte.

— Rep Robert Pittenger (@reppittenger) September 22, 2016
What is taking place in my hometown breaks my heart. Today, my anguish led me to respond to a reporter's question in a way that I regret

— Rep Robert Pittenger (@reppittenger) September 22, 2016
READ MORE: Curfew set on 3rd night of Charlotte protests against police killing of Keith Scott
Pittenger represents North Carolina's 9th District, which includes southern parts of the now highly charged Charlotte, where violent protests have erupted following the fatal shooting of a black man by police.
Keith Lamont Scott, 43, was shot by a plainclothes police officer in Charlotte, North Carolina on Tuesday. Police claimed he had a gun while his family insisted he was unarmed and reading a book. His family has released a video of the shooting that was recorded by his wife, who was talking to police from a distance. It was released to NBC News after law enforcement agencies once again refused to release their footage.
Scott's killing has sparked nightly riots resulting in mass arrests, injuries and the death of one protester.
READ MORE: Suspect in killing of protester arrested in Charlotte
Hate White People is trending on Twitter following the lawmaker's controversial remarks - more than 39,000 tweets have been posted with the hashtag, some agreeing and supporting Pittenger's comments.
BlackLivesMatter does "Hate White People". They're a Black supremacist movement & everyone knows it. Nobody should apologize for saying it.

— Jared Wyand 🇺🇸 (@JaredWyand) September 23, 2016
The media hates white people pointing out that destructive black people hate white people.

— Lee Stranahan (@stranahan) September 23, 2016
"Hate White People" is trending. Let that sink in. Twitter allows that to trend while disappearing any hashtags that counter that narrative

— Texas Darling (@TexitDarling) September 23, 2016
While others have condemned the "racist" and "hateful'' remarks, saying Pittenger's apology is not adequate.
This whole "Hate White People" trending is just made to DIVIDE us! Ignore it! They want a race riot before election! #TrumpPence16

— Deplorable Truth (@1truthtel) September 23, 2016
Why are white ppl saying Hate White People trending is racist, when it's trending because a white supremacist Robert Pittenger said it?

— Tariq Nasheed (@tariqnasheed) September 23, 2016