'World's worst zoo' in Gaza shut down as Bengal tiger & other animals removed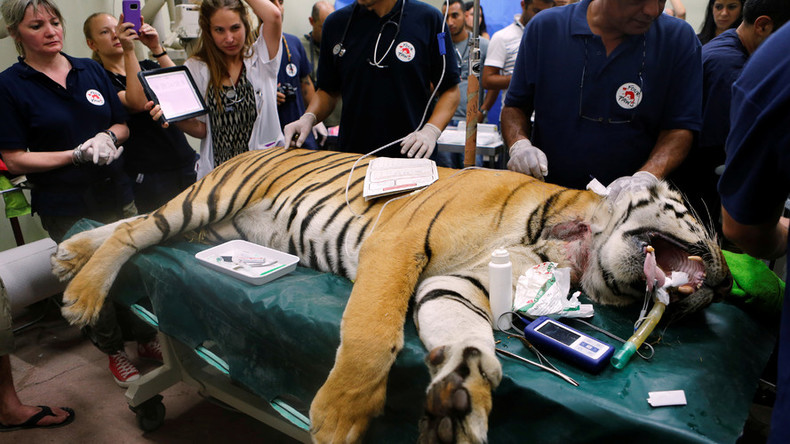 Fifteen animals including a bengal tiger were removed from "the world's worst zoo" in the Gaza town of Khan Younis as it was finally closed down.
Animal welfare group, Four Paws International, will help bring most of the refugees to a zoo in Jordan, but the tiger will be taken to a refuge in South Africa.
Five monkeys, a porcupine, an emu and the tiger, among others, crossed from the occupied territory into Israel after the zoo suffered from years of difficulty.
The zoo had been displaying stuffed animals that died from starvation alongside live animals, who survived dire conditions and Israeli airstrikes of the Strip, which has been under blockade since 2007.
"The conditions the animals were under were very far from ideal," said the leader of the mission, Amir Khalil, according to AP, adding that the animals would have "a big change" in their new homes.
With lack of awareness of animal welfare in Gaza, the densely-populated territory has previously made headlines after another zoo painted donkeys with stripes to resemble zebras in 2009. The original pair of zebras died of starvation during Israel's war against Hamas.
Four Paws had previously taken animals out of Gaza, including several lions and cubs. The wee ones were sold as pets to a resident from a refugee camp.
In the latest rescue mission, the tiger named Laziz was kept in a 3 sq m (32 sq ft) cage alongside his stuffed counterpart.
In his new home at the Lionsrock Lodge & Big Cat Sanctuary in Bethlehem, South Africa, he will have a 10,000 sq m (100,000 sq ft) enclosure.
Years of conflict in Gaza and a lack of resources because of the blockade by Israel and Egypt have had an impact on many animals in captivity.
But, for people, it doesn't get easier either.
Roughly 80 percent of Palestinians in Gaza rely on humanitarian assistance to meet basic needs, according to the UN.
Some Twitter users feel the animals are treated better than humans.
READ MORE: 'Catastrophe took place here:' Gaza farmers speak to RT after 'IDF destroys' 400 acres of crops