Stranded dog clinging to fence rescued from Louisiana flood waters (VIDEO)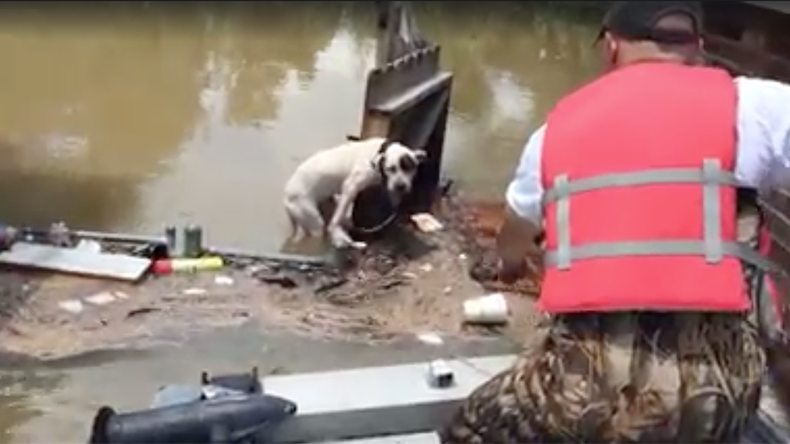 A pet dog that was left abandoned in the chaos of the Louisiana floods was rescued in the nick of time as it was struggling to hold on to a fence.
The pit bull looked exhausted as it was dragged into a boat and was still lying motionless and quiet as it finally touched solid ground. The pup was rescued two days after a state of emergency was declared across the whole state of Louisiana on August 12th.
The flooding has killed at least 13 people and damaged some 40,000 homes in what the Red Cross has called the worst disaster since 2012's Hurricane Sandy.
On Friday, Donald Trump toured the areas most damaged by the floods, and President Obama is set to travel to Baton Rouge on Tuesday when he returns from his vacation on Monday.
READ MORE: 'We're coming!': Baton Rouge rescuers race to woman & dog drowning in submerged car (VIDEO)
Trump told waiting reporters that Obama should have cut his New England vacation at Martha's Vineyard short to visit the devastated area.
However, a White House representative noted that in order for the president to visit, the Secret Service would require a great deal of law enforcement assistance, and so the visit had been delayed to allow emergency services to focus on the crisis at hand.
READ MORE: Trump visits Louisiana amid worst flooding since Superstorm Sandy
In a statement, Louisiana Governor John Bel Edwards accused Trump of using the visit as "a photo op" and called for him to make "a sizeable donation" instead.