Girl dies in freak accident at Moroccan zoo when elephant hurls rock, hitting her on head (VIDEO)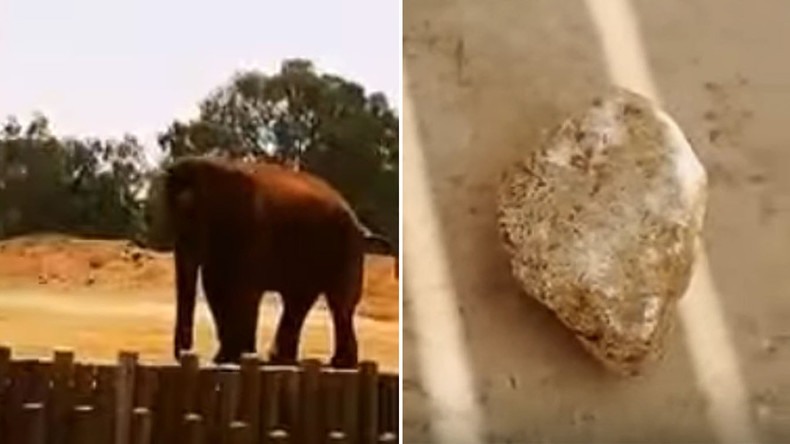 A 7-year-old girl was killed at a zoo in the capital of Morocco, Rabat, when an elephant threw a rock at her. An investigation has been launched.
An innocent family day out at "Jardin Zoologique National de Rabat" turned to horror on Tuesday when one of the zoo's elephants picked up a rock with its trunk and hurled it over a barrier to where the visitors stood admiring her.
The stone struck a young girl on the head, knocking her unconscious. Video footage of the aftermath that was uploaded to YouTube shows the zoo staff tending to the young girl, who can be seen lying on the ground.
The video also shows the guilty elephant, a female named Assia, as well as the rock that she threw into the crowd.
The girl was transported to a local hospital shortly after the incident, but died from her injuries a short time later.
The zoo's employees said they were "surprised" by the attack. A statement from the zoo described the incident as "rare, unpredictable and unusual," although it noted that it was similar to an incident in the US state of Ohio in May, which saw a 4-year-old killed when he fell into a gorilla exhibit at the Cincinnati Zoo.
READ MORE: Cincinnati Zoo gorilla killed after 4yo kid falls into exhibit moat (VIDEO)
"The behavior… of any animal is very complex," zoo veterinarian Abderahim Salhi told AP on Friday. "Wild animals are unpredictable."
Salhi added that "it would be wrong to blame the elephant," as its behavior was "not premeditated."
The elephant exhibition has been closed since the unfortunate incident and an investigation is underway.