Woof justice? 100k sign petition to save #DeathRowDog as breeding laws slammed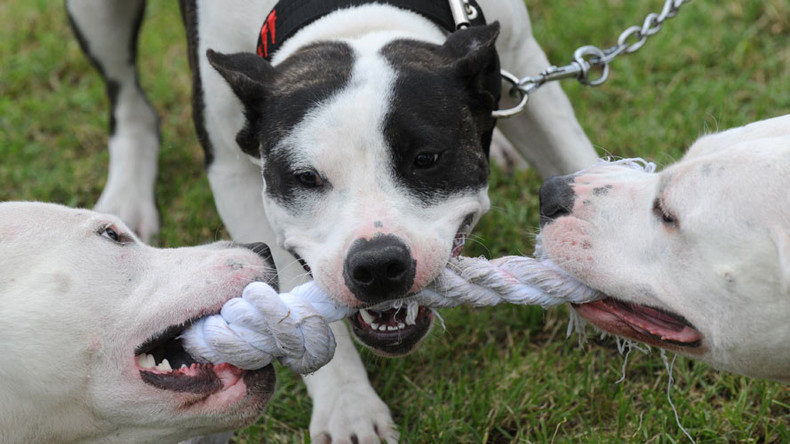 The plight of a Belfast dog whose fate rests on the results of a breed test has sparked an online campaign to save him from doggie death row.
Hank's owner's claim he's a Staffordshire bull terrier-labrador mix but Northern Irish authorities suspect he may be a pitbull, a breed banned in the UK.
Hank first came to the attention of authorities when he was reported as being aggressive. His owners Leonard Collins and Joanne Meadows told ITV that the almost two-year-old dog did have a problem barking at people, but that this was behavior they were trying to change.
The dog was seized by the council who await the results of tests to determine his breed. Under UK law the owners are unable to visit Hank during the time.
If found to be a pitbull, a breed forbidden by law in the UK, he will be put down.
I can't believe the ignorance of people regarding bull breeds! We get the same ignorance towards my Rottweiler #DeathRowDog#SaveHank

— Anna :) (@BattleWithEndo) July 22, 2016
Owner Collins criticized the law, pointing out that if Hank was found not to be a pitbull he would be released to his owners, regardless of whether he was aggressive.
Vet Rodger Mugford told UTV that the current UK law had "no basis in science" and "goes back to the worst kind of racial stereotyping of humans." Mugford said that studies in the US showed that only a quarter of dogs seized for being pitbulls are related to a pitbull.
More than 100,000 people have signed a petition trying to save Hank and a funding page has been set up to raise legal fees to fight Belfast Council if they deem him a pitbull.
Pitbulls were originally bred for blood sports and fighting but this does not make them all vicious, one expert said. "This law suggests that other dogs are inherently safe, and that's not necessarily the case. It should be changed to focus on the acts of the owner and not literally on what the dog looks like, because that simply isn't working." Bill Lambert told the BBC.
The hashtag #DeathRowDog has been trending on Twitter in support of Hank.
Feel so sorry for these people #deathrowdog why should the name of the dog determine their future.. It's all about the temperament 😥

— Amy McEwan (@AmyMcEwan25) July 21, 2016