Retired Chinese soldier creates 'Japanese Devil Rickshaw' robot in bizarre WWII tribute (VIDEO)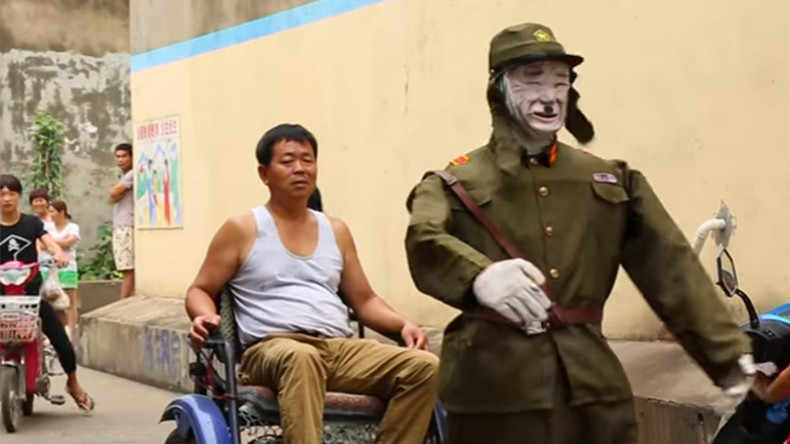 In a bizarre commemoration for the fallen soldiers of the battle between China and Japan during World War II, a retired soldier has built what he terms a robotic "Japanese Devil Rickshaw" memorial.
Duan Shaojie, a rickshaw driver who retired from the army in 1979, said he "decided to create something" in honor of the Chinese troops killed during the conflict.
"For months, I had been painting and welding repeatedly," he said. "And I had been thinking - in the morning, in the evening, before every meal, even when I was going to the toilet - I was always thinking about what to do in each step and how to make it raise its legs and walk like a man."
"And finally all the hard work has paid off," Shaojie said.
The robot wears a Japanese World War II soldier's uniform and has attracted a lot of attention in Luoyang, Henan province - the frontline of the conflict in 1944 and the Chinese famine of 1942-43.
"And I also have this dream," the bizarre creation's inventor added. "I want to build a series of robots on the theme of resistance against Japanese aggression in order to honour the heroes who sacrificed [themselves] for our country."
READ MORE: The power of glove: GM & NASA create robotic helping hand to fight fatigue (VIDEO)
The slow-moving robot has the ability to tow one person in a cart and the driver can command the machine to walk, run and turn.
But, occasionally, it also requires some handywork and tuneups.
Although, the robot isn't as quick as the "Terminator," the mustachioed model invention has clearly created quite a stir among the locals.