Banksy street art destroyed in Melbourne, replaced with plain doorway (VIDEO)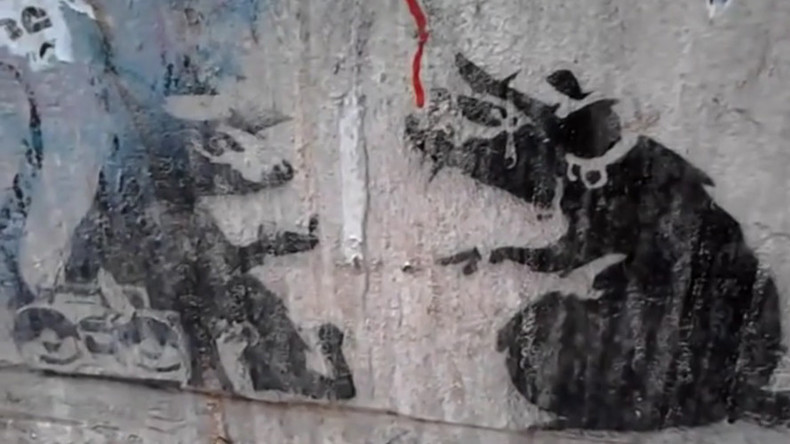 Three works by Banksy, believed to be Melbourne's largest group of stencils by the renowned British street artist, have been drilled out of the wall in the famous ACDC lane. The murals apparently suffered due to construction workers' ignorance.
Banksy's rats on the walls of the laneway were painted in 2003. Construction workers, who apparently had no idea the murals had been created by one of the world's most recognized artists, whose works are worth hundreds of thousands of dollars, apparently took the wall with the stencils down while installing a doorway.
The disappearance of the artwork was discovered last week by historian Meyer Eidelson, owner of the Melbournewalks.com tour company. Writing on his blog, he said the "iconic works" have been lost due to lack of protection by city authorities.
"[T]he people are losing control over their own city," he wrote, adding that the "fantastic laneways of [Melbourne] are under-protected."
It's not the first time Melbourne has lost part of its Banksy heritage. While the artist, whose real identity is unknown, is believed to have painted some nine stencils during the trip to the Australian city, most of them are now gone.
In 2014, two other Banksy murals were destroyed only a few meters away from the recent ones. Before that, another Banksy rat and a girl hugging a bomb disappeared from a wall on a building, also because the person who had destroyed it was apparently not aware of its significance. Earlier, construction workers got rid of another rat stencil. More Melbourne street art by the artist has suffered from vandalism.
The city tries to "preserve legal street art murals where possible," a spokeswoman from the City of Melbourne told Fairfax Media, adding that yet "the very nature of street art is that it is temporary, ephemeral and forever changing."
READ MORE: Tagging Banksy: Criminology technique allegedly unmasks elusive graffiti artist