Jaws-dropping invention: Electric 'shield' can scare away maneating sharks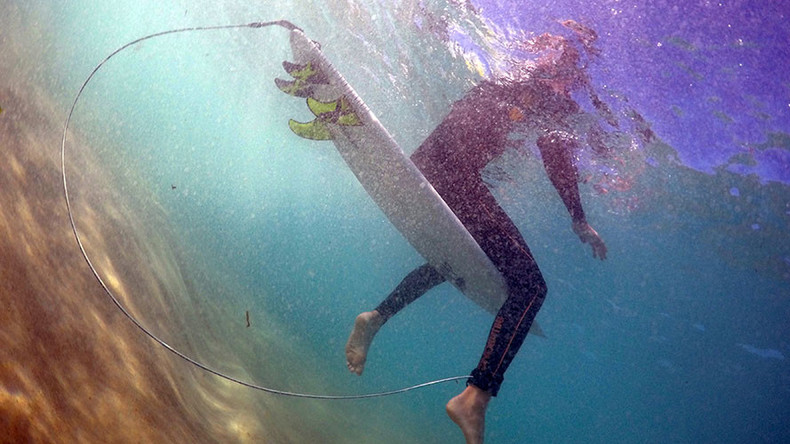 Scientists believe an electric 'shield' is the "most effective" protection against shark attacks for swimmers, with the animals' sensitive sensory system apparently proving key.
Academics from the University of Western Australia (UWA), tasked by the government to find out the best way to stop people from becoming shark bait, tested a range of novel deterrents such as strobe lights, loud underwater audio and bubble barriers, used to cloak swimmers from nearby prey.
But it seems that a commercially available device called Shark Shield is the best option when it comes to avoiding a toothy face-to-face meeting with 'Jaws'.
The device can be strapped to a person's ankle or surfboard and gives out a three-dimensional electric field from two electrodes.
"This does not harm the shark in any way, but merely causes it to experience a high level of discomfort," the Shark Shield website explains.
"From testing, the closer the shark is to the Shark Shield field, the more spasms occur in the sharks' snout, which results in it turning away… thereby protecting the user."
Independent UWA tests, led by professor Shaun Collin, Nathan Hart and Dr Ryan Kempster, underwater cameras showed the Shark Shield in action, preventing a 4-meter (13ft) long great white from chomping on a baited rod.
"They're coming within about 1.3 meters (4ft) or so but they're always changing their behavior away from the strong electric field emanating from the Shark Shield," professor Collin said.
However, the group's analysis - which involved 300 shark encounters - has stopped short of providing any 100 per cent defence guarantee, with Collin explaining that the sea creature is often unpredictable.
Interestingly, sharks were found to adapt to the electric currents with the deterrent rate dropping after the first approach.
"[After the initial encounter] the sharks would actually approach slightly closer each time so they would habituate to the device over time and so there was an overall deterrent effect from the device.
"However, it's important to note that this is not a hundred percent [defence]," Dr Kempster said.
The Western Australian State government has provided AU$220,000 (€148,000) funding towards shark attack prevention, WA Today.