Porn booth is back: Times Square restores sleazy reputation with 'free' WiFi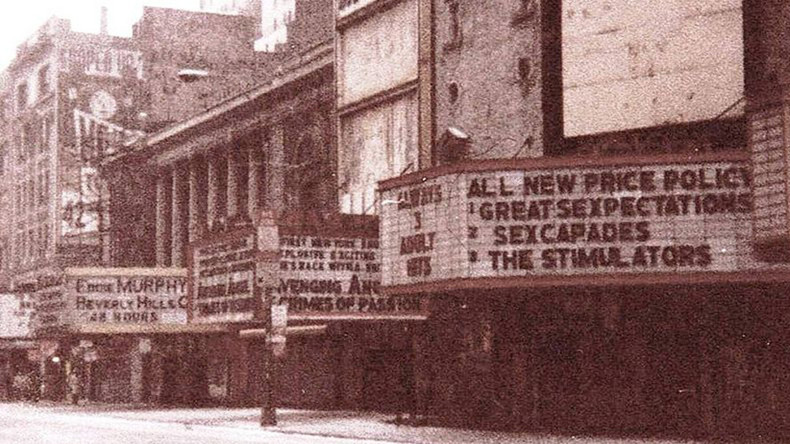 All the animals used to come out to Times Square at night - "whores, skunk p*ssies, buggers, queens, fairies, dopers, junkies, sick, venal." Then one day in the 1990s, a "real rain came and washed all the scum off the streets," thanks in part to Mayor Rudy Giuliani and Disney.
Now, the iconic New York City landmark appears to be returning to its sleazier roots with newly-installed "free" WiFi hotspots being used to watch porn, thanks in part to Mayor Bill de Blasio and Google.
The initiative launched in January converted the old-fashioned telephone booths into internet access points which tourists and locals are then able to use.
For decades, a different kind of booth in adult bookstores throughout Times Square had coin-operated video players with porn. With that came the worst job in the world - the clean-up guy.
LinkNYC, the consortium partially owned by Google's sister company Sidewalk Labs, was outsourced by the city to install 7,000 WiFi booths at a cost of around $200 million.
It's now boosting its family filters after the new booths quickly became a "haven" for "scores" of "homeless men" and school kids to watch porn, according to the New York Post.
Not long after being installed, the Rupert Murdoch-owned conservative tabloid claims this has become a particular problem along Eighth Avenue in the vicinity of the Port Authority Bus Terminal with "homeless men" and "patients of local methadone clinics" using the booths to browse adult content, which one homeless man said was "great."
READ MORE: Poor shaming: Murdoch-owned paper targets homeless while NYPD trashes their stuff
"I was watching porn on one of them things on, like, Saturday," Hakeem, a local homeless man, told the NY Post.
"There were kids who were skipping school and just coming over here to watch porn," he said. "The cops had to come and break them up."
I wonder how many ppl read my tweets about being homeless and people dismiss it cuz im on twitter. Welp. Free WiFi is a thing. Phone=gift.

— MadamAdriana (@MadamAdriana_AJ) June 17, 2016
Ruth Fasoldt, a community affairs manager for LinkNYC, explained they use "a highly regarded content monitoring system used by thousands of public schools and libraries across the country, and we recently implemented an additional filter for image searches."
This wasn't to everyone's delight though with Hakeem saying "it sucks" while another homeless man, Joseph, saying he was "kind of pissed" when he realized he couldn't access porn at the booths anymore.
If I had to choose between living in Alabama or being homeless I'd put my cardboard box next to a Starbucks so I'd have free wifi.

— Bo Jiggs (@BossmanJiggetts) June 19, 2016
While the clean-up of Times Square was heralded as a positive change by some, many criticized the government's corporate welfare, in which multinationals such as Disney, JP Morgan, and Ernst & Young received millions of taxpayer dollars, and its use of eminent domain to kick out viable businesses who didn't fit the new image.