Road rage cop: Officer threatens motorcyclist who honked his horn (VIDEO)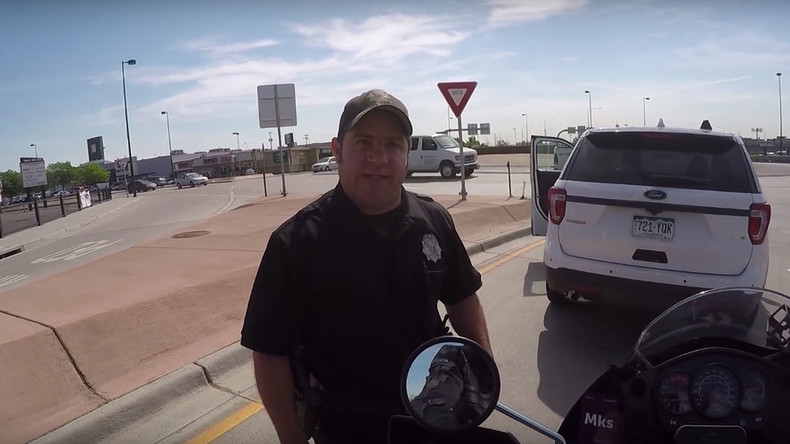 A Denver police officer has been caught on video losing his cool, threatening to take a motorcyclist to court after the biker honked his horn at him to alert the "distracted" driver to get off his phone.
The biker was unaware the driver, who was in an unmarked police car, was a cop until he got out of his vehicle to confront him about the honking.
The whole seven minute exchange, which took place at an intersection, blocking oncoming traffic, was recorded on the rider's helmet camera.
The man, identified as Devin Jones, told KDVR he started recording all his journeys because of the frequency with which he encounters distracted drivers, but he never expected this kind of incident.
The video shows the officer come up to Jones and immediately accuse him of road rage in an aggressive tone.
Jones tries to calmly explain he just saw someone on a phone, impeding traffic. The cop replies, "sometimes I'm required to be on my phone" and claimed he was making a police-related phone call.
He ironically accuses Jones of road rage as he continues to display bully like behavior and lecture him despite the man's repeated apologies.
The officer accuses the rider of breaking the law for standing up on his bike and threatens to subpoena his camera and book him; "I'm going to write you a ticket ... and we're going to subpoena your camera into court"
READ MORE: Miami Vice: Cop pulled over by woman for speeding (VIDEO)
He continues to shout at Jones, rehashing the same arguments while traffic accumulates behind the pair.
Jones tries to explain he regularly comes across distracted drivers and often fears for his safety which is why he uses the camera.
The cop ends his tirade by (mis)informing Jones that he is inappropriately using his horn.
"Don't use your horn at a motorists because this is considered road rage in the state of Colorado."
"I'm not going to sit here and school you on the legal use of it but if you have a driver's license here than you should know the answer to that question."
A Denver police spokesman confirmed to KDVR it is not considered road rage to use your horn in Colorado.
They also said a complaint has not being made regarding the officer in the video and so the incident is not being investigated.