'Inside Donald Trump': New game lets you perform 'surgery' on presidential hopeful (VIDEO)
Published time: 5 Jun, 2016 00:53
Edited time: 5 Jun, 2016 01:56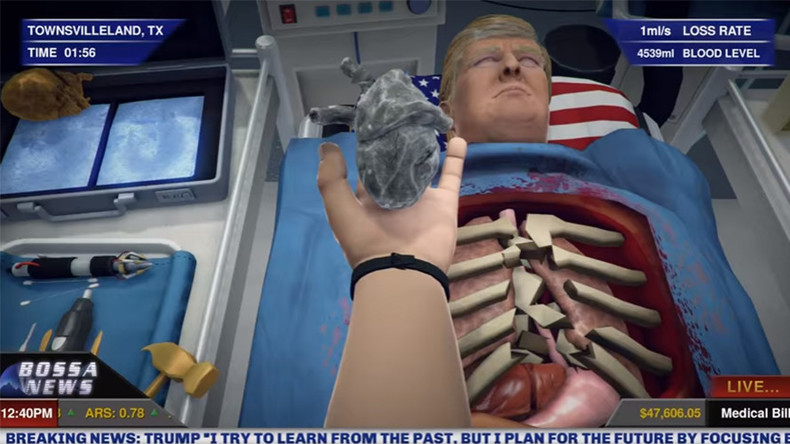 If you've ever wondered what it would be like to perform open heart surgery on Donald Trump while rubbing his face with a steak, then you're in for a treat.
Bossa Studios, the creators of Surgeon Simulator, have decided to celebrate the game's anniversary with a special, albeit dark, add-on.
WARNING: THINGS CAN GET PRETTY GRAPHIC BELOW
"Surgeon Simulator: Inside Donald Trump" is now available for download on Steam and allows one to take a crack at being the billionaire's surgeon.
In your all important role, you have to perform a heart transplant on Trump – and to do so, you are supplied with an interesting array of instruments, some more medical than others.
At your disposal is Trump vodka, to knock out the presidential patient, and a mini Trump tower, to loosen or prod his organs.
With Trump's head resting on a pillow wrapped in an American flag, you can caress Trump's face, touch his famous mop, and even rub a Trump steak in his face. Why, we're not sure, but it sure looks fun!
Once you're done poking and prodding Trump's innards, you then have a decision to make – whether to give Trump a heart of stone or heart of gold.
As well as being able to play God with Trump's insides, you also have the option of using the supplied makeup kit to add even more luster to The Donald's famous glowing skin.
People have been posting comments on YouTube wondering if Hillary Clinton and Bernie Sanders are about to become the "heroes" in a similar gruesome simulator.