Very narrow escape: Lucky motorcyclist rides straight through car collision (VIDEO)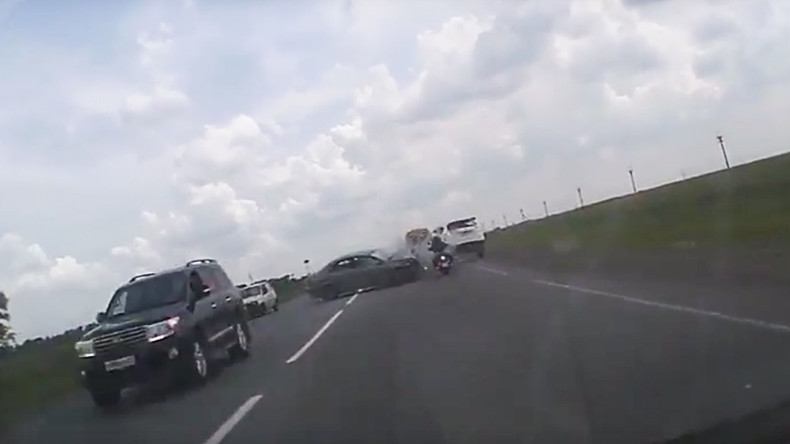 A motorist has narrowly escaped death after cars smashed inches from him on a Russian highway. Being in the epicenter of the accident, he was between the devil and the deep sea… but rode as if nothing had happened.
The incident took place on a highway near the city of Taganrog in southwestern Russia on Thursday, Russian media reported, citing police officials.
READ MORE: Fast & furious: Urban racer launches off roundabout with spectacular style (VIDEO)
A 41-year-old driver of Toyota car apparently lost control of their vehicle and collided with a near-by Nissan.
The footage shot by the DVR (digital video recorder) of a passing car shows an action-style scene: the Toyota smashes the Nissan, which is seen veering off the road and overturning several times.
READ MORE: Car crash propels cops in duty 4x4 into triple flip (VIDEO)
As for the motorcyclist, who was inches from the scene of the incident, he just drove on through the dust clouds.
A female passenger in her 50s is said to have suffered injuries and was taken to hospital.