Canadian envoy who took down terrorist tackles protester at Easter Rising ceremony in Ireland
Published time: 26 May, 2016 22:59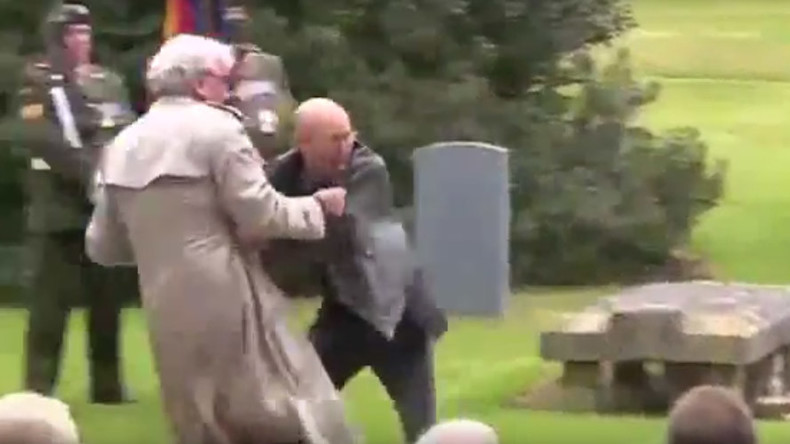 The Canadian ambassador to Ireland, renowned as a hero for shooting a gunman after he stormed Parliament Hill in 2014, tackled a protester who interrupted a 1916 Easter Rising commemoration in Dublin, Ireland, Thursday.
Kevin Vickers was attending a memorial for the 100 British soldiers who died during the rising when a protester wearing a 'Justice for the Craigavon' t-shirt ran forward, shouting "this is an insult", according to The Irish Independent.
It was also reported the man made a reference to two men who were sentenced for killing a policeman in Northern Ireland in 2009.
This year marks the centenary of the Easter Rising where Irish republicans rose up against British occupying forces and has been marked with numerous ceremonies and parades honoring those who died while fighting for independence.
READ MORE: Easter Rising 100 Years On: Relatives of 1916 veterans honor Ireland's revolution
Vickers, a former Sergeant-in-Arms, responded quickly to the interruption at Grangegorman Military Cemetery and dragged the protester away from the wreath laying ceremony, where Irish police then apprehended him. The man was arrested for a public order offence.
The protester was later identified as a member of the Irish Republican Prisoners Welfare Association by the group, who accused the diplomat of assault.
Global Affairs Canada said in a statement to CTV News that Vickers intervened to intercept the protester from running up to the speakers' podium and was not injured during the incident.
The Canadian Embassy in Ireland would not comment on the incident, according to Canada's CBC News.
Vickers was appointed to the role as ambassador to Ireland in January 2015, shortly after the 2014 Parliament shootings.
He was hailed a hero when he killed gunman Michael Zehaf-Bibeau as he stormed a parliament building after killing a soldier standing guard at the Canadian National War Memorial.