Mad ax man: Fiery licks banged out on flamethrowing guitar (VIDEO)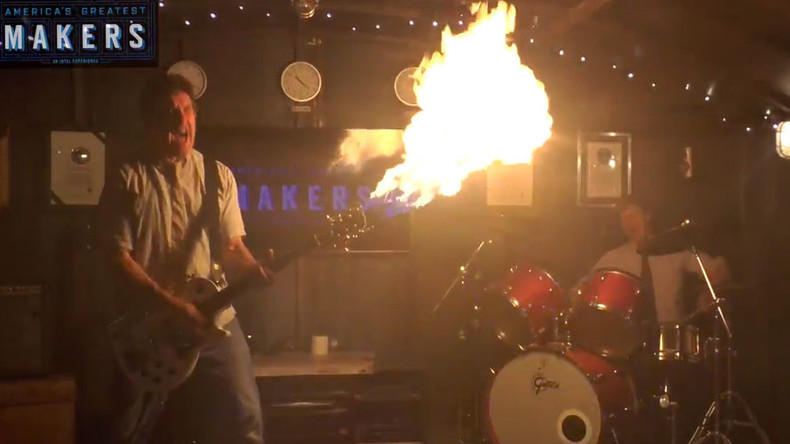 British inventor turned stuntman Colin Furze is back in his garden workshop and his latest crackpot contraption is a flamethrower guitar worthy of a post-apocalyptic rock rave.
Furze's screwball creations attract millions of viewers online, with the Lincolnshire inventor often asking internet denizens for crazy ideas.
Answering the wishes of fans, the plumber by trade has metaphorically cranked up his amp to 11 and fashioned a flamethrowing guitar from a limited edition Epiphone Les Paul.
He then used the potentially-deadly instrument to perform a fiery and spontaneous jam session on the roof of his terraced home. There goes the neighborhood...
"... I'm making some crazy guitar mods to make even the worst guitarist seem that little bit more rock 'n' roll. Based on your suggestions, you want to see fire," Furze explains in a video.
To give the white 'ax' a Mad Max-like makeover, Furze butchered two blow lamps which he attached to the neck of the guitar.
Amazingly, a stainless steel 'gas reservoir'was positioned into the side of the instrument to allow rockers to spit flames as they hammer out a roaring racket.
Furze then digitized the flamethrower with an Intel circuit board, so that shots of flames would fire sporadically at certain points in a song.
The result is reminiscent of the guitar wielding Coma Doof Warrior, who bashes out a terrifying and thundering soundtrack in George Miller's 'Mad Max Fury Road'.
Proving that no rock show is complete without wild flashing strobe lights, Furze also engineered a pulsating and smoking bass guitar.
Furze will have to crank his flame-throwing contraption up a notch, though, if he wants to 'out stunt' KISS's Tommy Thayer and his rocket guitar.