'We can rebuild him': Paralyzed kitten given bionic makeover using old toys (VIDEO)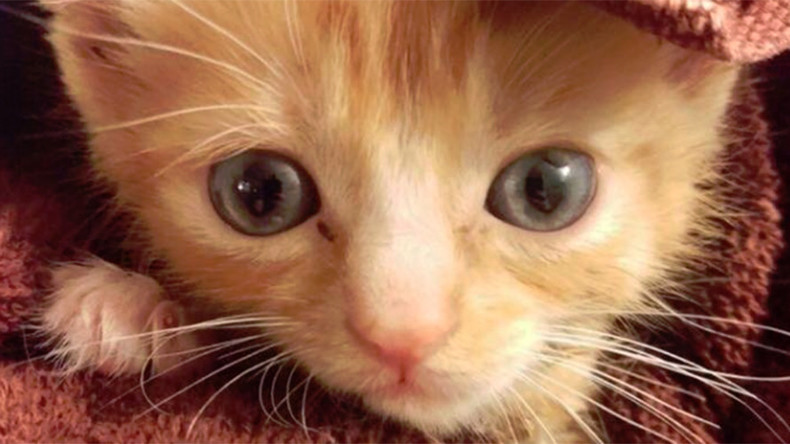 A tiny kitten, paralyzed in its hind legs, is back on the prowl thanks to New York vets who used old children's toys to fashion a makeshift wheelchair for him.
All those years wrestling with Meccano as a child appear to have come handy for veterinarians in Massapequa, NY, after the disabled feline was fitted with a wheel walking aid made from what looks to be the popular model-making kit.
Christened Mac N' Cheez, the tiny auburn cat was reportedly found alone on the street by a good Samaritan, who then passed him on to animal caregivers at the Massapequa Pet Vet centre.
An official Facebook page for the vets said Mac was unable to walk before the ingenious intervention.
"Some of our very dedicated technicians went digging through old toys they had and made him a makeshift wheelchair that allows him to finally run," a post by the vet team read.
"We love this little guy and can't wait to see what the future holds for him."
The vets are now hoping Mac can be rehabilitated before eventually being adopted by a loving family.
The amazing toy transformation means Mac is now kind of like the cat version of the Six Million Dollar Man, a fictional NASA pilot played by actor Lee Majors, who was 'rebuilt' with bionic legs and arms after a catastrophic test flight.
The 1970s television show was a global hit and established the catchphrase: "We can rebuild him, we have the technology."
But Mac is not the first cat to benefit from a clever artificial walking aid. Last year, a cat named Vincent was provided with titanium alloy prosthetic legs to help him regain his prowling powers.
READ MORE: Cat born without hind legs gets brand new titanium limbs

The three-year-old domestic short-hair had been unable to get around properly due to a birth abnormality.