'Shoot the cyclists': Ryanair CEO threatens commuters & elected officials with violence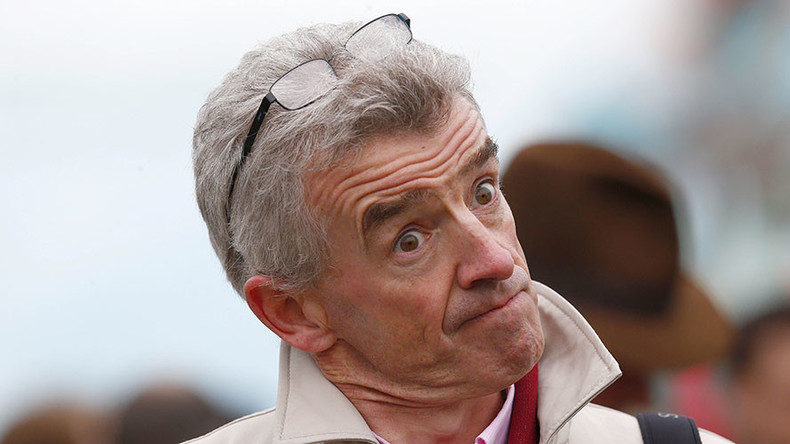 Michael O'Leary, the billionaire "bully" boss of the airline travelers love to hate, Ryanair, has threatened to shoot cyclists, particularly the ones who get in the way of his luxury taxi he uses to drive in cycle lanes.
Speaking at a US embassy conference about the future of aviation in Dublin, Ireland, a city where cyclists are an afterthought on the tiny Georgian streets even though it's the fastest way to commute, the Ryanair boss called on them to be shot as a way to ease traffic.
The Bilderberg attendee wasn't even supposed to talk about cycling at the Wednesday economic conference, but taking to the stage after a speaker who advocated more cyclists in the city, something ignited his entitled male rage and he went off script.
"I hate to pick on Dublin City Council, but s**t they're here and they deserve a slapping," O'Leary said as he encouraged physical violence against elected officials in a roomful of witnesses, and then added, "We should take the cyclists out and shoot them."
Thousands of cyclists are killed by motorists every year world wide including nine on Irish roads.
O'Leary and his fellow mass polluters have declared a war on the zero-carbon form of transportation by deriding improved infrastructure projects for safer cycle paths similar to those in the Netherlands and Copenhagen.
A higher tax on his top income bracket could also fund such projects, but he threatened to "quit" Ireland if the tax rate went up to 75 or 80 percent.
'If Sinn Féin taxed super rich, I'd emigrate,' says O'Leary
Super Rich DON"T pay taxes; = the PROBLEM
RYANAIR charges them for better seats?

— Bob B Mor (@BjayzusBob) April 16, 2016
O'Leary's company Ryanair, with annual profits approaching €1 billion, avoided €12 million in taxes when the European Commission backed his refusal to pay Ireland's air travel tax introduced in 2009, the same year most Irish residents had austerity measures imposed on them.
The loud mouth executive has been skirting regulations and exploiting loopholes for years, like in 2004 when he acquired a taxi license so he could use the shared bus and bicycle lanes, instead of using the regular lane like a peasant.
That same year, the Taoiseach (Prime Minister) at the time, Bertie Ahern, said if O'Leary was "still in the education stream", he would be accused of bullying, according to the Irish Times.
Three years ago, Reuters reported that the CEO was slammed at a Ryanair shareholders' meeting for his "bullying" and "macho" style.
O'Leary never goes too long without saying something to grab people's attention, previously claiming Ryanair would charge for using the bathrooms onboard and commence flights with passengers travel standing up.