Real-life 'Arkham Knight' batmobile races through Europe this week (VIDEO, PHOTOS)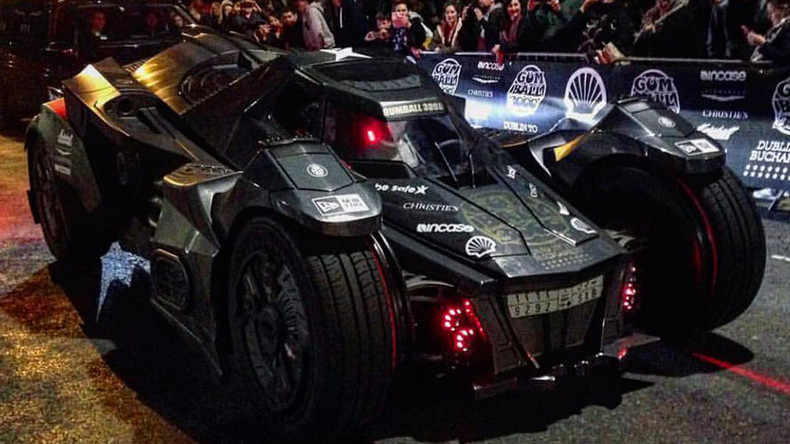 Those who were disappointed by the new 'Batman v Superman' film might have their spirits raised when they get a look at the real-life batmobile making its way through Europe this week as part of the Gumball 3000 Rally.
Based on a version of the caped crusader's sweet ride from the Arkham Knight video game, the car is basically a Lamborghini Gallardo, but with a completely body rework made entirely out of carbon fiber.
Created by Saudi Arabia's Team Galag for the annual cross European rally, the beast of a machine is traveling from Dublin to Bucharest with a 5.2-liter V10 engine and 560 horsepower.
Good thing for them oil prices are so low.
As can be seen in the video below, the 26-inch wheels come with fixed hub covers.
Because the car's rear design obstructs the driver's rear view, the interior, which seats two, has a number of screens attached to cameras around the car.
This isn't Team Galag's first outing in a batmobile.
They entered the superhero's Tumbler in the 2014 Gumball event which is also pretty astounding.
The Gumball Rally, valued at over US$300 million by Forbes according to its website, was founded by British entrepreneur Maximillion Cooper in 1999.
It has attracted criticism over the years, particularly in 2007, when two pensioners were killed during the event as it passed through the town of Struga in Macedonia.
A Porsche 911 hit an oncoming Volkswagen Golf, killing the husband and wife inside. One of the drivers of the Porsche received a suspended sentence for his role in the crash.
Video footage of the aftermath of the crash surfaced online in recent years.
There have also been a number of participants, including well-known celebrities such as Idris Elba and Knight Rider's David Hasselhoff, who were stopped for speeding by police authorities in a number of countries, with some cars confiscated by authorities as a result.