French rivers dyed green – and it's not even St Patrick's Day
Published time: 26 Apr, 2016 03:21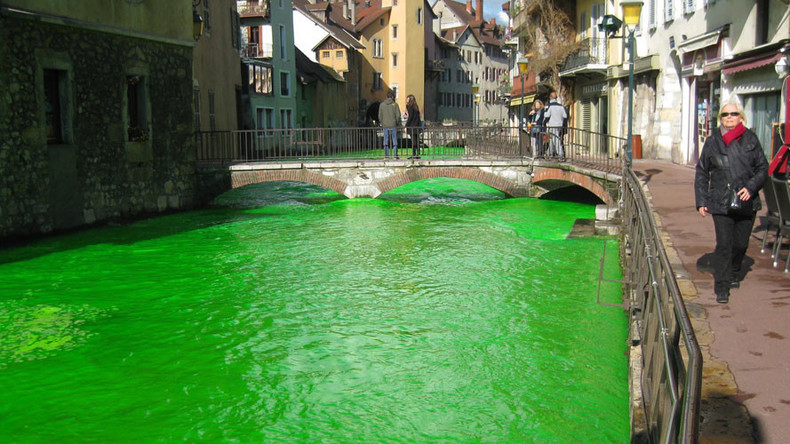 Les Bleus are becoming Les Verts in France as environmentalists have turned several rivers into something resembling a Skittles advert in an effort to alert the public to a lack of funding in their sector.
Rivers across 12 French departments have been dyed, according to Le Figaro, with environmentalists claiming the dye is not toxic to marine life. "It's to show the path pollution takes in the water. It's a strong visual, but it's completely safe. The fish don't even notice." Yannick Pognart told the newspaper.
Pognart, an Environmental Inspector at ONEMA a French agency for water quality preservation said, "right now, the environment is very à la mode, everyone knows the consequences and that it's something very important" but that the stunt was required to highlight the lack of a real environmental public service.
The preservation of biodiversity "rests on the shoulders of 20 government workers in each department" according to ONEMA in a statement, who said a new public service is required and sufficiently funded with a budget of "more than €200 million ($225 million)."
The environmentalists no doubt took inspiration from the St Patrick's Day celebrations in Chicago, where the river was dyed green.
Let's hope they don't follow that other US St Patrick's Day tradition of dying beer green and start turning delicious French wine green.
Environmentalists hope the stunt will get the attention of those attending France's fourth conference on the environment which began on April 25. President Hollande opened the conference with an announcement that he plans to initiate a shutdown of France's oldest Fessenheim nuclear plant with additional nuclear power stations in the country to be named for closure in 2018.