Retailer Zara tells biracial worker her braids are 'too extreme', could face human rights complaint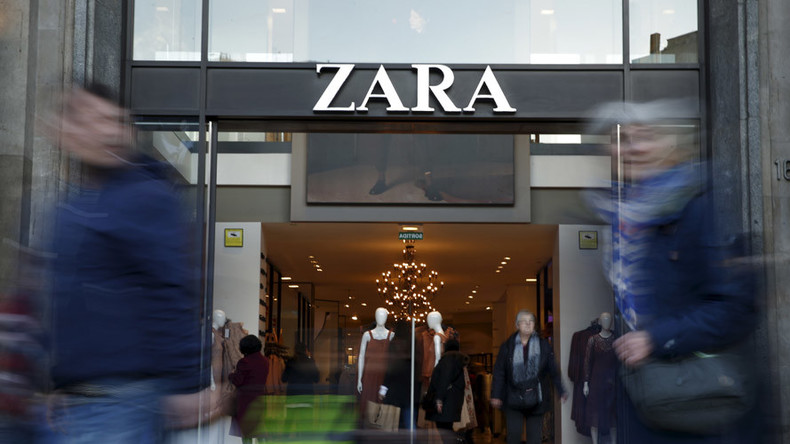 An employee at a Zara store in Canada may file a human rights complaint against the multinational clothing chain owned by the world's second richest man after her bosses said her braids were "too extreme".
Cree Ballah, who describes herself as biracial, works at a Zara store in Toronto's Scarborough Town Centre.
When initially interviewed for the job in February, the 19-year-old says she was told she could not have extreme colors in her hair and removed the grey extensions she already had, before starting her first day at work.
On her second day of work however, two of the store's managers pulled her aside to question her hairstyle before one asked her to "take it down," reported CityNews.
"They took me outside of the store and they said, 'We're not trying to offend you, but we're going for a clean professional look with Zara and the hairstyle you have now is not the look for Zara,'" Ballah told CBC, adding that they both then tried to "fix" her hair into what they saw as an acceptable style.
"It was very humiliating... it was unprofessional," Ballad said.
Ballah says she pointed out to her bosses that some of her fellow employees had dyed their hair bright colors, which was in breach of company policy.
Her managers reportedly told the teenager that it wasn't the colors that was the problem, but the style Ballah had chosen.
The young woman removed her braids after two days and while her job has not been threatened, she described the atmosphere in the workplace as "tense".
Ballah has filed a discrimination complaint with the HR department and told CBC that she's likely to quit and lodge a complaint with the Ontario Human Rights Commission over the incident.
"My hair type is also linked to my race, so to me, I felt like it was direct discrimination against my ethnicity in the sense of what comes along with it," said Ballah.
@ZARA How ur Toronto managers treated ur employee today is despicable. Her hair's gorgeous. Your racism on the other hand? Not a good look.

— Titty Brigade (@LadyHamBeast) April 11, 2016
Zara said in a statement they have "engaged directly the employee on this matter and respect the privacy of those discussions."
"Zara has no formal policy regarding employees' hairstyles," the store says, but that it does "expect all employees to ensure that they present a professional appearance that enables them to serve our valued customers."
The company has been condemned on its Facebook page, with commenters branding them as "jerks" and describing the incident as an "epic fail".
Another wrote that the management at the Scarborough Town Centre store should "check their overt racism at the door".
http://www.cbc.ca/news/canada/toronto/ballah-zara-discrimination-hai...Perhaps it would be advantageous to have a word...

Posted by Jamie Colden on Sunday, 10 April 2016
This is not the first time the Zara brand has been tarnished.
The clothing chain has previously been accused of using sweatshops in its production processes, boosting the net worth of owner Amancio Ortega, currently number two on Forbes list of the richest people in the world, in between Bill Gates and Warren Buffet.
But while he's worth more than $60 billion, the people making the clothes make just a few cents per hour under "slave" conditions.
In 2011, a clothing factory subcontracted by Zara in Sao Paulo, Brazil was found to be paying its mostly Bolivian laborers, some of whom were children, between 7 and 12 US cents per piece of clothing they sewed as well as being forced to work 12 hour shifts.
Similar allegations were made against the company in 2013, 2014 and 2015 when products made for Zara were discovered in a number of sweatshops in Eastern Europe, Turkey, and Argentina.