'Smart Windshield' for motorbikes - worst safety feature ever? (VIDEO, POLL)
Published time: 28 Mar, 2016 12:32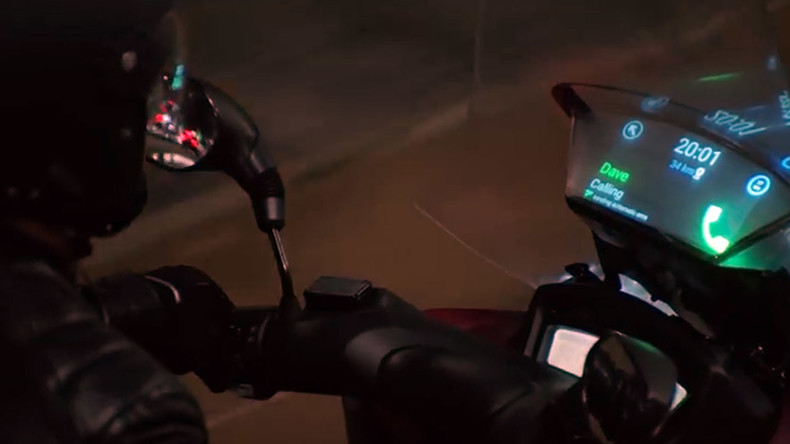 Samsung's new 'smart windshield' intended to stop drivers from using their phone while riding is either genius or the worst safety feature ever.
Deemed "the first windshield created for your safety" and aimed at "young motorbike riders", the bike connects with the driver's smartphone so "you can keep both hands on the handlebar" while receiving updates on-screen.
The app allows riders to display map directions on the technological windshield as well as receive incoming calls, messages, emails and other notifications.
The concept, a partnership between the Italian subsidiaries of Samsung and Yamaha, is not yet in production - much to the delight (and dismay) of commenters who put their mixed views forward on YouTube.
"Jesus Christ, the last thing you need is for your focus to be taken off the road especially when you're on a bike," wrote Ryan Clemens.
"Checking your emails / notifications while riding a bike = death," said VyperVPN
"Good but no notices for calls and text that's the last thing I need at 200 km/h," said Master Bike.
"I wish this was a joke, but I'm afraid we are evolving to this level of stupid... What about keeping your phone in your pocket and check it while stopped? It doesn't take a rocket scientist to realize that people will get killed because of this (it maybe a Darwinian device coming to think of it)...," commented Dino de Almeida.
However, some people pointed out that looking at a dashboard when receiving an incoming call is safer than reaching for your phone, with supportive comments for the development including: "this needs to go to production," "Why is this not for sale yet", and "need this".
"superb technology ........" added YouTube user aditya singhal.
Samsung says the windshield will encourage riders to leave their smartphone in their pocket.
AutoBlog.com praised the concept, comparing the technology to that already in cars. However TheVerge.com pointed out that adding more distractions to motorbike riders already "35 times more likely to die in a crash than someone in a car" might not be the best idea.