One year of probation for threatening Bill O'Reilly
Published time: 20 Dec, 2012 21:06
Edited time: 21 Dec, 2012 01:06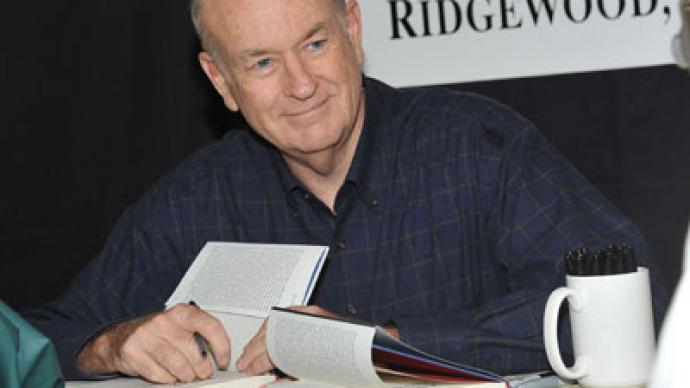 If you're curious as to what the cost is of threatening the life of a controversial TV pundit, a judge in Illinois has the answer: around $500 and one year probation.
James Rogers, 62, was charged back in February with felony harassment for making death threats over the phone to Fox News host Bill O'Reilly. Earlier this month he was convicted for the crime, and now Madison County Circuit Judge Richard Tognarelli has ordered Rogers to serve one year of probation for his actions.
According to the Madison County Sheriff's Department, the former Navy mechanic from Troy, Illinois left intimidating messages on the answer machine of Mr. O'Reilly around January 26 of this year. The Madison Record recalls that the messages were described as "threatening" by the Sheriff's Department and warranted felony harassment charges filed in court. The authorities were alerted to the incident at shortly after the messages were left and apprehended Rogers days later without incident. He was taken into custody on January 31 and held for 23 days before being released.
In court this month, Judge Tognarelli ordered that Rogers remain 500 feet away from Fox News Headquarters at all times and recommended immediate mental health evaluation. Additionally, he'll have to pay a $500 fine and will be on probation for one year.
Rogers is also suspected of harassing Illinois State Congressman John Shimkus (R), and has been ordered to halt all contact with him as well.
"Defendant shall not harass, intimidate or interfere with the personal liberty of William O'Reilly or Representative John Shimkus or their respecting families," Judge Tognarelli ruled.
Luckily for Rogers, one year of probation isn't all too bad for making harassing phone calls. O'Reilly himself settled to the tune of several million dollars back in 2009 after a former employee of Fox News' "The O'Reilly Factor" alleged that the TV show host made a series of explicit phones calls to her.
Andrea Mackris, a former producer for "The O'Reilly Factor," sued her old boss after his unwanted advances snowballed into at least one substantially creepy phone call conversation that was, fortunately for the record books, caught on tape. In court transcripts from the proceedings, Mackris alleged that O'Reilly proposed the two get drunk on wine during a make-believe Caribbean vacation and then have a not-so-romantic rendezvous in the shower where O'Reilly would massage his employee's "really spectacular boobs" and the rest of her body with a piece of a falafel. It's assumed that O'Reilly meant to say "loofah," but for the sake of being fair and balanced, it's best to stick with what's within the embarrassing transcripts.