WikiLeaks data could have predicted insurgency but the military failed to use it
Published time: 18 Jul, 2012 16:19
Edited time: 18 Jul, 2012 20:19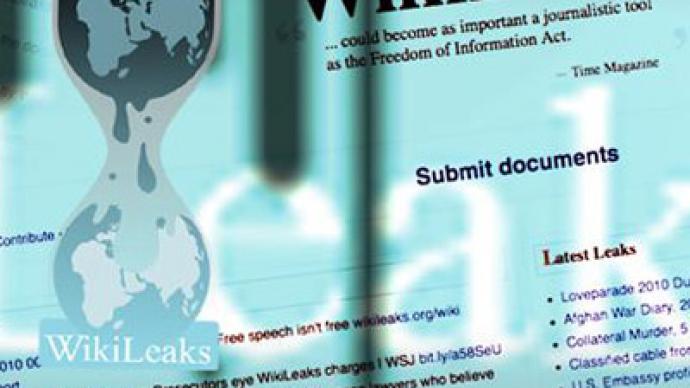 As Bradley Manning approaches his eight-hundredth day in military jail for allegedly distributing sensitive military files to WikiLeaks, a team of researchers say that same trove of data can help determine when and where violence will erupt next.
To the US Army, Private First Class Manning is a war criminal. If convicted on the charge of aiding the enemy, the 24-year-old soldier could see the rest of his life unravel from behind the bars of a darkened, desolate jail cell. For more than two years he has been held under conditions considered torturous by a special rapporteur for the United Nations and, if found guilty on the charge of aiding the enemy, could end up crammed in a small cell for life.
Following the release of a report on Monday, however, the team of tech wizards behind the paper 'Point process modelling of the Afghan War Diary' say that the data dump that Manning is allegedly responsible for could save countless lives overseas. Their findings were published this week in the Proceedings of the National Academy of Sciences of the United States of America journal, and in just a few pages they provide a case that publishing more and more military logs may actually be the answer to efficiently ending the war in Afghanistan.
Computer programmers with New York City-based Bitly Inc. spent only a few hours plotting data from 77,000 incident reports from Afghanistan that were published by WikiLeaks, then running the statistics through a series of algorithms that search for items such as location and intensity of violence. From there, they use the equations to predict how past events will influence warzones in the future. In one example, researchers predicted by using only old war logs that "armed opposition groups" in Baghlan province, Afghanistan would increase their attacks by 128 percent between 2009 and 2010. In actuality, the surge was 120 percent — only a few percentage points off.
"The model we employed is both complex and simple," Guido Sanguinetti, an expert in computational sciences at the University of Edinburgh in Scotland and the study's senior author, tells the Los Angeles Times. "It doesn't take in any knowledge of military operations or political events, and it treats all types of violence exactly the same, whether it's a stop-and-search or a big battle."
Ideas like this one out of Bitly are nothing new, especially in Los Angeles where local law enforcement recently adopted a tactic of "predictive policing" — using past crime statistics to map out when and where future crimes will occur with relative accuracy. Since similar technology has already been employed on a smaller scale, it could come as a surprise to some that the US military has not already started using these practices to predict future outbursts overseas.
What's more is that the military has indeed tried to tackle the problem, but has been beaten to the punch once again by the private sector.
"For the first time, we have large data sets from places like Facebook and Twitter that we can analyze with high-powered computers and get meaningful results," Paulo Shakarian, a computer scientist at the United States Military Academy at West Point, adds to the Times. "Iraq and Afghanistan are the very first conflicts where we have been collecting as much data as we possibly can."
That isn't to say that it's been the only attempt by Uncle Sam to use computers to infiltrate insurgents. Wired.com reports that the US military spent $125 million over the course of only three years on developing computer models designed to forecast political unrest, with the Pentagon handing out $90 million to 50 separate contractors to develop tools — neither paid off as much as the research done in a single night by the Bitly crew.
To the programmers behind the latest study, though, it isn't social media status updates and wall posts that are key to predicting what will happen next. While those factors might help in the end to a certain degree, it's studying from earlier events that can really provide pretty accurate results.
This, of course, would mean that the WikiLeaks files — which the government insists has threatened national security but has failed to prove as such — might be all that is needed. Or, more accurately, it might just be a matter of being truthful about the truths of war. As the researchers write, the ways of warfare today are largely erratic, in part by being able to map out plans of attack through modern technology. If that same technology is embraced, it could with a fair amount of certainly help end those battles, not start them.
"If the model says there's a lot of uncertainty about what's going to happen in an area, then you might act differently than if you were more certain that you were going to see an increase in activity," Sanguinetti adds to Science News.
"During the Cold War it was tit-for-tat modeling at the international level," John O'Loughlin, geography of conflict experts at the University of Colorado Boulder, adds to Science News. "Almost all wars are irregular these days. It's not armies lining up against each other with front lines."
Until the governments overseeing these battles actually bring the truth to the public, though, it's anyone's guess what is really going on. Luckily for the team at Bitly, whistleblowing has let them literally see into the future.