Calderon to Obama: Get your S**T together!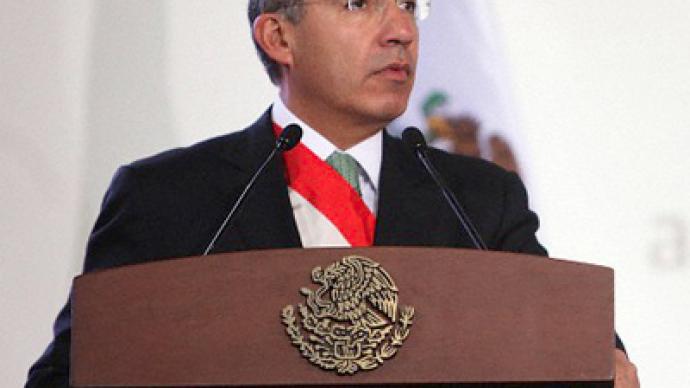 Mexican President Felipe Calderon and US President Barack Obama meet to discuss cracking down on US illegal drug consumption and arms sales as they try to iron out the details of an ongoing drug war alliance.
Recently violence in the war on drugs left one US Immigration and Customs Enforcement (ICE) agent dead and another wounded in Mexico. This was followed by accusations from Calderon that the US was hindering efforts to push back against drug cartels.The Mexican president lashed out, insulting the US ambassador, calling him ignorant and openly criticized the Drug Enforcement Administration, CIA and ICE for their handling of the drug war. "The reality is that they don't coordinate with each other, they're rivals," he told a Mexican newspaper.The confrontation has raised tensions between the US and caused concern among some seeking to maintain the strength of the drug war alliance. Tensions aside, on the agenda is discussions on drug gangs, trade, investment, global security, tourism, and the border areas.The White House has in the past acknowledged its responsibilities for drug and border issues, however recent unrest in the Middle East and greater focus on Afghanistan has left the border and the drug war on Obama's back burner. Prior to Calderon's visit, he called on the US to do more to curb American consumption of illegal drugs as a mechanism for curbing the trade and cutting off Mexican cartels by removing buyers from the market; although US government officials have cited an effort to do just that few specifics have been given. Calderon is hoping for greater US response and cooperation. Since the Mexican President began his crack down on the cartels and drug trade in Mexico in 2006 an estimated 36,000 people have been killed.
You can share this story on social media: