US adopts Al-Qaeda's tactic of secondary attacks for drone strikes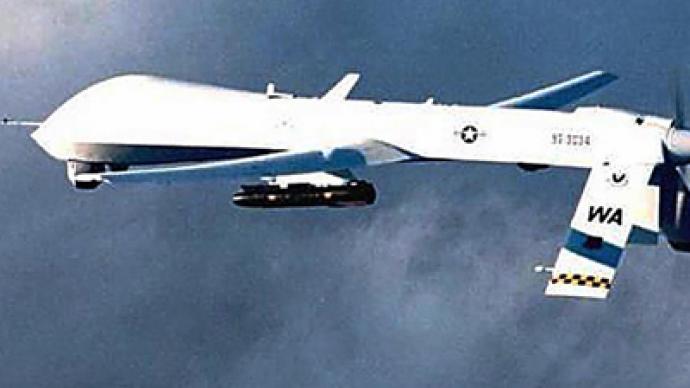 The US has been carrying out follow-up attacks after its drone strikes in Pakistan, specifically targeting people coming to the aid of the wounded. The tactic has been widely condemned, including by the UN – which considers it a war crime.
A Guardian report by Glenn Greenwald shows the US government's hypocrisy regarding such tactics. While the FBI has warned that "terrorists may use secondary explosive devices to kill and injure emergency personnel responding to an initial attack," the US regularly applies the same methods. A 2004 FBI alert warned Americans against secondary attacks meant to "incite more terror," advising that such incidents can usually be expected within an hour of the initial attack."These devices may be hidden in everyday objects such as vehicles, briefcases, flower pots or garbage cans, or can be sequential suicide attacks in the same locations, and are generally detonated less than one hour after the initial attack, targeting first responders as well as the general population," the alert read.The second plane crashing into the World Trade Center on September 11, 2001 is considered a secondary attack.While warning of such tactics, the US government has tried to justify its own employment of them. A 2010 video published by WikiLeaks shows two journalists being killed by an American helicopter targeting insurgents in Baghdad. After rescuers drove to the scene to bring the wounded to hospital, the helicopter once again opened fire – killing children in the process and putting bullets into those who were already visibly dead.Initially, the US military claimed that all those killed were insurgents, saying it was the Iraqi militants' "fault for bringing kids in to a battle," The Guardian reported in 2010.The Geneva Convention concluded that those who "collect and care for the wounded" must be themselves protected from harm. UN special rapporteur Christof Heyns said attacks on rescuers are considered a war crime.But attacking rescuers has now become the norm for American forces. The Bureau of Investigative Journalism found that the CIA has killed dozens of rescuers and funeral attendees in Pakistan.The report states that 50 or more civilians had been killed as a result of helping victims – including pulling bodies out of rubble. Between May 2009 and June 2011, news media reported at least 15 attacks on rescuers.This past weekend, Reuters reported that northern Pakistan saw "a flurry of drone attacks" at a time when most of the country was celebrating the end of Ramadan. At least one of the strikes was a follow-up attack, the International Herald Tribune reports.Al-Qaeda allegedly ambushed funerals of their attack victims in Yemen over the past few months, sparking outrage by Americans who are condemning the acts.  At the same time, the US continues to employ secondary attacks in its own affairs abroad, in a continuous war against terrorism.
You can share this story on social media: