US puts $10 mln bounty on two Americans' heads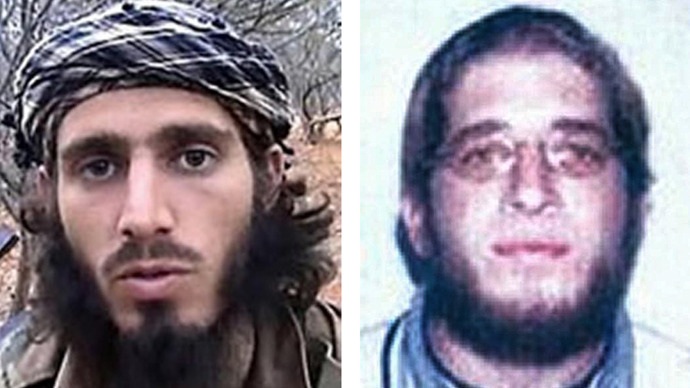 The US is offering $10 million for information leading to the capture of two Americans who allegedly moved to Somalia and joined the terrorist group Al-Shabaab. The Alabama and Wisconsin natives are on the FBI's Most Wanted Terrorists list.
The State Department has promised to shell out $5 million for each of the Americans through its Rewards for Justice program. The government says these men are members of Al-Shabaab, an al-Qaeda affiliate based on Somalia. The State Department says they "have made significant contributions to this terrorist organization's media and military activities."
Omar Shafik Hammami, a 29-year-old Alabama native, was a popular rapper for Al-Shabaab when he lived in the US and helped recruit English-speakers through his music. He was raised as a Southern Baptist, but began to identify as Muslim when he was in high school. He moved to Somalia in 2006 and an Alabama court indicted him in 2009 for his involvement with a terrorist organization. A federal warrant for his arrest has been outstanding since 2007.
After the FBI added Hammami to its Most Wanted list in November, the man took to Twitter to thank the agency for its listing, using his pseudonym Abu Mansoor Al-Amriki.
"Amriki would like to accept the honor of most wanted list and thanks everyone," he said in a message on his Twitter account.
But while the US is hunting the alleged jihad fighter, his reputation with Al-Shabaab has also been suffering. After Hammami criticized the terrorist group in a Web video, condemning its leaders for living extravagant lifestyles, the young man said he feared for his life in Somalia.
Even though his status with Al-Shabaab is "immaterial", a senior FBI official told CNN that his past actions are significant enough to keep him on the FBI's Most Wanted list.
"We still believe he is an individual of great significance to the activities that are going on in Somalia with Al-Shabaab," the official said.
Jehad Serwan Mostafa, who is believed to be 27-32 years old, was raised in Wisconsin and attended college in California, where he graduated with a bachelor's degree in economics.  In 2005, Mostafa traveled to Somalia, where he allegedly led foreign fighters and served as a media expert and recruit for Al-Shabaab. In 2009, the United States District Court of Southern California charged him for conspiring with terrorists and issued a federal arrest warrant.
The State Department is currently offering $7 million in rewards for other Al-Shabaab fighters, but none are worth as much as Hammami and Mostafa.
"Anytime we have U.S. citizens who are trying to affiliate with groups to obtain experience and training and have the opportunity to bring back that lethal experience back to the United States, it's a concern," a State Department diplomatic security official told CNN. "There is no question the cases against these two guys are based on their activities to date. However, we have a continuing interest in terrorist activities in Somalia right up to now. And these men serve as very powerful images for radicalization and recruitment."
Since the State Department's Rewards for Justice was set up in 1984, it has paid over $125 million to about 80 people for information leading to the arrest of designated terrorists. The highest outstanding reward of $25 million is for information leading to the arrest of Ayman al-Zawahiri, who is the current leader of al-Qaeda.
You can share this story on social media: