US and Canada close border crossing after deadly shooting
Published time: 17 Oct, 2012 16:15
Edited time: 17 Oct, 2012 20:15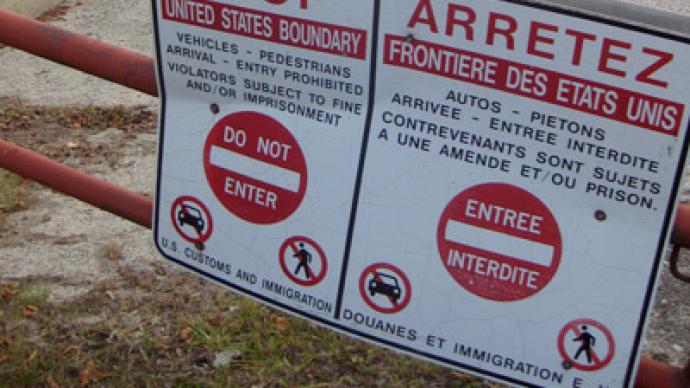 A Canadian border agent was shot in the neck by a man who then killed himself at the border between the US and Canada on Tuesday.
The female border agent had suffered serious injuries from the gunshot wound and was airlifted to a hospital around 2:30 pm. She was still breathing and conscious at the time of her evacuation. The assailant, a man driving a white Ford Ecovan with Washington state license plates, fatally shot himself after injuring the guard.
"There were shots fired in quick succession, and then I heard some screams," Dave Noble, a witness who was at the border when the incident took place, told the Vancouver Sun. The officer was in her booth at the time of the shooting.
Royal Canadian Mounted Police Cpl. Bert Paquet told reporters that investigators did not yet know why the assailant opened fire on the guard or took his own life. Canadian and US officials are working together to try to understand the motivations behind the shooting.
"This is a very serious incident that occurred right on the border line," Paquet said. "We are sharing information with [the Americans.]"
Washington Gov. Chris Gregoire promised to help in the investigation.
"This tragedy hits especially close to home, and reminds us all that our public safety officers put their lives on the line every day to protect the rest of us," Gregoire said.
After the shooting, the Peace Arch crossing on the US-Canada border was immediately closed and cars were stuck at the border until the panic ceased.
"Everybody started freaking out," Elizabeth Southam told the Global News. "Border Guards ran out of their little booths here and locked everything up. Everyone just went crazy."
 The station was closed temporarily, while drivers were deterred to other crossings.
The identity of the shooter will be kept anonymous until further details regarding the incident are determined.
"We're still talking to witnesses to confirm exactly what events took place," Paquet said, adding that video surveillance would be crucial in the investigation.
The incident also highlights the fact that most border officers are not trained to carry weapons. Only 40 percent of officers at the Peace Arch crossing are trained and armed, which puts the other 60 percent at risk in cases where they have to deal with potentially violent passengers.
"This is a profound reminder of the risks that border services officers assume every day," Canada Border Services Agency president Luc Portelance told the Sun. "I know that the courage and dedication of our officers are second to none."