US airstrikes kill at least 14 civilians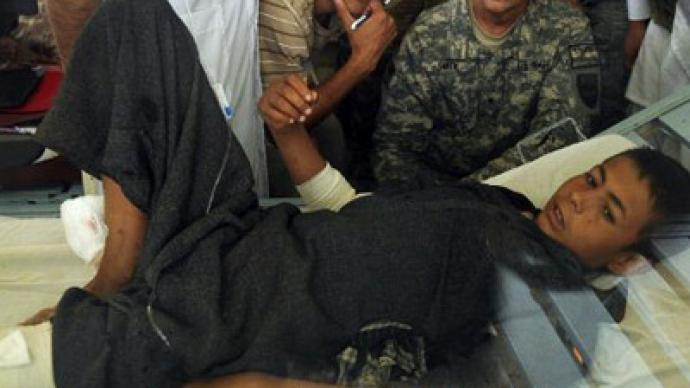 The US military is taking the blame for an airstrike in Afghanistan over the weekend that left at least six civilians dead — one mother and five children.
NATO officials confirmed on Monday that an airstrike launched late Friday in the Sangin district of Helmand Province, Afghanistan resulted in the death of at least half a dozen civilians. The news was first revealed by Governor Muhammad Gulab Mangal of Helmand who, according to the New York Times, called the US regional commander on early Monday to ask for an explanation."We expressed regret over the incident, and we're investigating to determine how this happened," Lt. Col. Stewart Upton, a spokesman for the US military in Helmand, tells the Times."We are deeply saddened by any civilian death and particularly regret an incident where civilians are killed," he adds.Addressing the incident, a spokesman for Afghan President Hamid Karzai has condemned NATO over the assault. "That's unacceptable to the Afghan government," says Aimal Faizi, according to CNN. They also report that International Security Assistance Force Commander Gen. John Allen and US Ambassador Ryan Crocker were summoned to President Karzai's office to explain the attack. Colonel Upton adds to the Times that General Gurganus is expected to formally apologize in the coming days to the family of the deceased.Should US and NATO authorities decide to say they are sorry to all those affected over the weekend, it might prove to be a busy few day for western forces. The Afghan government reports that at least four airstrikes shook the country in the last few days. According to the Los Angeles Times, two of those strikes took a total of 14 civilian lives."During these bombings by coalition forces, which started since this Sunday in the Logar, Kapisa, Helmand, and Baghdis provinces of Afghanistan, dozens of Afghan civilians – including women and children – were killed or wounded," reads a recent message from President Karzai's office, reports CNN."President Karzai said that unilateral operations by NATO forces and bombing civilians is not only an issue of Afghan sovereignty, but it is also an issue of human life, which cannot be ignored," continues the statement. "President Karzai said if the lives of Afghans are not safe then strategic cooperation between the two countries will lose its meaning and concept."News of the latest strikes comes only days after US President Barack Obama made an unpublicized trip overseas to sign paperwork that will put the end of America's combat role in Afghanistan to an end quicker than once thought. By the end of 2012, the US will have officially been conducting military operations in Afghanistan for 11 years. Last month ABC News and the Washington Post revealed the results of a poll examining the American public's support for the country's decade-long military operation in Afghanistan — according to the latest study, pro-war sentiments are at their lowest since troops first arrived just a month after the terrorist attacks of September 11, 2001.
You can share this story on social media: