Will the UN endorse Palestinian statehood?
Published time: 16 Nov, 2009 12:08
Edited time: 19 Nov, 2009 11:06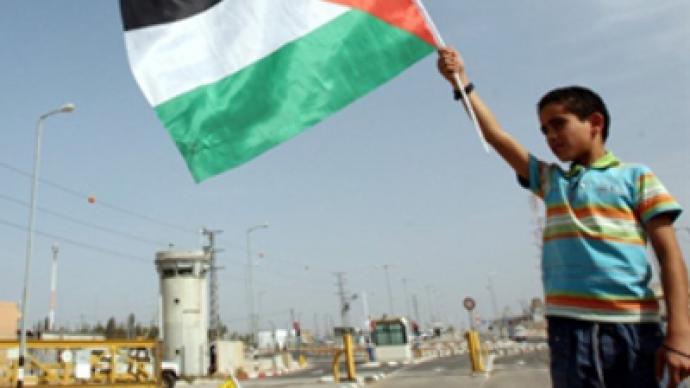 Israel cries foul as Palestine says it will make a formal request to the UN Security Council for the recognition of its independence.
Warning: Strange and uncomfortable feelings of déjà vu ahead.
Ten years ago, on May 4, 1999, Israeli Prime Minister Benjamin Netanyahu triumphantly announced, "We have prevented a unilateral declaration of a Palestinian state."
Today, Bibi is back in the driver's seat, the road map is battered, the passengers are tired and restless, and even Israel's veto-friendly ally, the United States, is beginning to show signs of road fatigue.
Meanwhile, the Palestinians – watching Israeli settlement construction continue unabated in the West Bank, and the peace process reduced to an experiment in futility – have once again decided to risk the back road to independence.
Palestinian Prime Minister Salam Fayyad said Sunday that the "unilateral" declaration of a Palestinian state is necessary because bilateral negotiations for a two-state solution have made no progress.
"I know some people are concerned that this move is unilateral," Fayyad said, speaking at a press conference at the Saban Forum in Jerusalem. "But it seems to me that it is unilateral in a healthy sense of development."
Some 40 guests arrived in Ramallah from the United States for the 6th annual Saban Forum on Strategic Israeli-American Dialogue, including former US President Bill Clinton and California Governor Arnold Schwarzenegger.
Forty Israelis were also in attendance, including Bank of Israel Governor Stanley Fischer and Independent US Senator Joseph Lieberman. The conference alternates between the two countries.
Palestinians are seeking an independent state that includes the West Bank, Gaza Strip and east Jerusalem – areas captured by Israel in the 1967 Six-Day War. Israel responded that any unilateral action on the part of the Palestinians would be met with Israeli unilateral action.
The Palestinian prime minister then drew attention to the ongoing construction of Israel's "separation barrier" that is fencing off Palestinian territories in the West Bank and inhibiting economic growth [As of April 2006, the length of the barrier as approved by the Israeli government was 703 kilometers (436 miles) long. About 58.04 percent has been constructed, 8.96 percent is under construction, and construction has not yet begun on the remaining 33 percent].
"Our people are continuing to demonstrate against everything that is illegal under international law, including the separation fence," Fayyad said.
Chief Palestinian negotiator Saeb Erekat said earlier Sunday that discouraged Palestinians had decided to turn to the United Nations Security Council after experiencing too many false dawns with Israel.
"Now is our defining moment," Erekat said. "We went into this peace process in order to achieve a two-state solution. The endgame is to tell the Israelis that now the international community has recognized the two-state solution on the '67 borders."
The Palestinians refuse to return to the negotiating table until the Israelis halt all settlement construction in territories taken from the Palestinians following the Six-Day War of 1967. They are also demanding that Israel recognizes the demarcation lines that existed before 1967.
Some 500,000 Israelis live in these passionately contested lands, in addition to thousands of Israeli soldiers stationed on bases.
This is not the first time the Palestinians have unilaterally declared their independence; the last time was on Nov. 15, 1988, and recognized by dozens of countries, but never formally recognized.
The press conference was held at the end of a discussion Fayyad held with 80 guests as part of the Saban Forum, organized by Israeli-American media tycoon Haim Saban.
"A flag and a song"
In June, Netanyahu said that he endorsed a two-state solution to end the Israeli-Palestinian stalemate, but the conditions were described as impossible for the Palestinians to accept.
"A fundamental prerequisite for ending the conflict is a public, binding and unequivocal Palestinian recognition of Israel as the nation state of the Jewish people," Netanyahu said. "If we receive this guarantee regarding demilitarization and Israel's security needs, and if the Palestinians recognize Israel as the state of the Jewish people, then we will be ready in a future peace agreement to reach a solution where a demilitarized Palestinian state exists alongside the Jewish state."
So Netanyahu agrees to the creation of a Palestinian state, albeit under the condition that this new state refrains from having a military.
"What he said was that Palestinians left in cantons on the West Bank can have a flag and a song," Erekat said.
The Israeli leader said that "the way to achieve peace is through negotiations, cooperation and the agreement of both sides," and that any unilateral efforts will endanger any existing agreements.
"This is true with regard to security and economic issues, and also with regard to a genuine political process," Netanyahu told the forum on Sunday. "There is no substitute for negotiations between Israel and the Palestinian Authority, and any unilateral attempt outside that framework will unravel the existing agreements between us, and could entail unilateral steps by Israel."
Is Israel's most-trusted ally at wits end?
Former U.S. president Bill Clinton said the end to the Palestinian-Israeli conflict could happen on President Barack Obama's watch, but he said Obama and Netanyahu would have to be "brutally honest" in their private talks with each other.
"I have always said that you must be brutally honest in private with any head of state you are dealing with," Clinton advised.
The visiting former president, who said Saturday that peace could have been realized had then-prime minister Yitzhak Rabin not been assassinated, told Israeli journalist Nahum Barnea: "You should not think that President Obama is your enemy."
Political analysts point to Netanyahu's May visit to Washington where the two leaders clashed, however politely, over the question as to what should come first: the question of Palestinian statehood, or the perceived threat of Iran acquiring nuclear weapons. Obama advised that Israel address the problem of Palestinian statehood first, and then consider Iran. Netanyahu rejected Obama's equation, saying that Iran should be considered first.
The former US president then stressed America's commitment to protecting Israel.
"No American president can serve in good conscience and not be committed to the security of Israel," Clinton said. "As long as you believe that America is with you at some core emotional level, we can have a conversation about anything. If you ever stop believing that then it does not matter what our position is."
Clinton then expressed his personal belief that Netanyahu's government may surprise everybody with a generous offer to the Palestinian people.
The Israeli prime minister is capable of making "an agreement or… a proposal that would be beyond anything anyone expects."
"This is the first time that any Israeli government has said we will not issue an new permits and not have any new settlements and that should be enough to open the door and start talking," he continued.
Clinton then drew attention to the demographics in the region, with the Palestinians having higher birth rates, as well as the growth of technology, specifically rocket technology, that underscores the urgency of achieving peace as soon as possible.
"The trajectory of technology is not your friend," Clinton reminded his Israeli hosts. "You need to get this done and you do have partners."
The former president also told the forum that Iran's contentious nuclear program was not in itself the main issue facing the West, but the implications that it would encourage other regional entities to seek nuclear capabilities for themselves.
As one of the five permanent members of the UN Security Council, the US wields veto power over any resolution that lands on the organization's desk. Israeli media has predicted that the US would veto any unilateral move to statehood on the part of the Palestinians.
But predicting the actions of the United States these days, at least where Israel is involved, has become a bit trickier, especially since Barack Obama has proven less accommodating toward Israel than his republican predecessor, George W. Bush.
Israeli Defense Minister Ehud Barak warned that Israel risks having the global community throw its support behind the Palestinians if peace talks are not restarted.
Without an agreement, he said, there is a possibility that "support will increase for the Palestinians declaring a state unilaterally," he told the Cabinet on Sunday.