UC Davis to pay students pepper-sprayed during protest
Published time: 14 Sep, 2012 22:00
Edited time: 15 Sep, 2012 02:00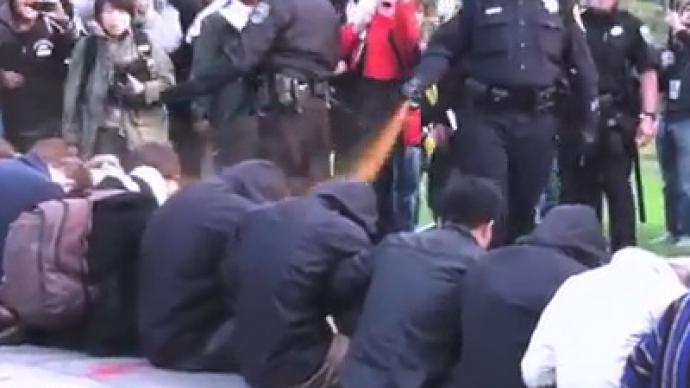 The University of California has agreed to compensate students and alumni that were assaulted last year when a US-Davis campus police officer discharged bursts of pepper-spray at the faces of demonstrators peacefully protesting tuition hikes.
Members of the UC Regents board agreed Thursday on a settlement that will be extended to a group of protesters who were targeted by Lt. John Pike during a November 18, 2011 sit-in on the Davis campus.
The board has not made public the amount of the settlement, but the Sacramento Bee reports that the incident has likely cost administered upwards of $1 million in the ten months after. The internal affairs investigation alone into Lt. Pike's actions cost the university $230,256.73, the Bee adds.
Lt. Pike has since parted ways with the force, but not before the incident — infamously caught on camera — went viral online and made the incident the subject of headlines around the country. In the official police report that followed, Lt. Pike said, "the crowd and mob mentality of the moment became even more belligerent and worrisome," and that he feared a revolt from the protesters. After a wave of condemnation, Police Chief Matthew said Pike "showed poor judgment."
A task force put together to investigate complaints waged at Lt. Pike and the school found that the officer's actions last year were "not authorized by policy" and "critically flawed."
"There is little factual basis supporting Lt. Pike's belief that he was trapped by the protesters or that his officers were prevented from leaving the quad," the report stated. "Further, there is little evidence that any protesters attempted to use violence against the police."
Repeated calls for the resignation of the school's chancellor were made in the aftermath, even after the university revealed that Pike parted ways with the force. The officer was fired on July 31 of this year, but not before collections his $121,680 annual salary for several months on paid administrative leave.
Jonathan Stein, the UC student regent, tells the Los Angeles Times that without a doubt a settlement of some sort was absolutely warranted. "We did an injustice to our students that day at Davis, and some amount of recompense is appropriate. More importantly, it's time for us as an institution to publicly acknowledge that's not the way we should treat our students; we were wrong, and we are moving forward," Stein says.
In all, 21 current of former UC Davis students will be compensated in the settlement, which officials tell the Times will come from around $600 million in reserves set aside in the university's self-insurance program.