Survivors, activists fight to end torture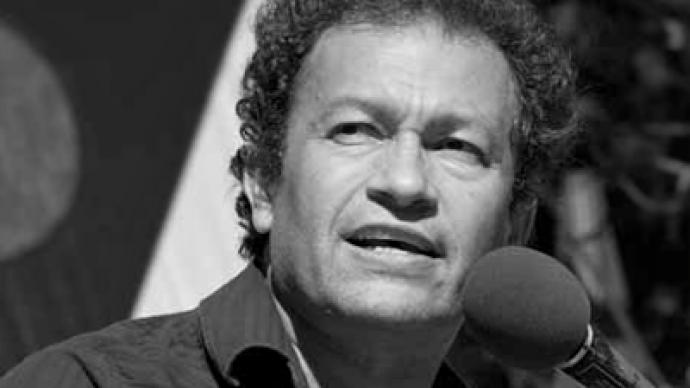 It's been 30 years since Colombian soldiers kidnapped, beat, tortured, starved and electro-shocked Hector Aristizabal — but it's a memory he lives with everyday.
Aristizabal said the Colombian military held and tortured him for ten days, all for having a "subversive book.""Few people have survived torture in Colombia, so I am very lucky to tell this story. Most people get tortured for ten days, that's the standard, and then they get shot and killed," said Aristizabal. "Many have been disappeared — more than 80,000." Aristizabal says that the Colombian soldiers who tortured him and later killed his brother were trained right here on American soil, at the School of the Americas in Fort Benning, Georgia. Retired Army Major Joseph Blair was an instructor at the School of the Americas, which has since been renamed the Western Hemisphere Institute for Security Cooperation."I was very much in favor of the School of the Americas during the Cold War era," Major Blair said. But Major Blair said he was horrified to learn of what his former students did with their anti-communist training in their own countries."The classified manuals that the Army School of the Americas used had the words interrogate, extortion, assassinate, neutralize — in common layman's terms, it all equates to torture," Blair said. Graduates from the School of the Americas have been implicated in massacres and torture throughout the hemisphere — including the murder o fsix Jesuit priests and four American churchwomen in El Salvador.Holy men Ignacio Ellacuria, Ignacio Martin-Baro, Segundo Montes, Arnando Lopez, Joaquin Lopez y Lopez, Juan Ramon Moreno and Julia Elba Ramos were all slain in the early morning of November 16, 1989 in an El Salvador home. Assassins also took the lives of the housekeeper and her daughter. That incident came nearly a decade after three American nuns gruesomely lost their lives on El Savador soil. Maryknoll missionary nuns Maura Clarke, Ita Ford, and Ursuline nun Dorothy Kazel were all raped and brutally killed by plain-clothed National Guard soldiers while on a mission in El Salvador on December 2, 1980.Connecticut-born charity worker Jean Donovan was also murdered by troops, becoming just a fraction of the more than 75,000 in all that lost their lives during the Salvadoran Civil War.According to the School's rosters, of the more than 60,000 soldiers and police to have graduated, 10,000 of them have been Colombian — the largest demographic. "Colombia has been the biggest user of the School of the Americas and I don't think it's an accident that it's the biggest abuser of human rights in the Western hemisphere," said Aristizabal. The Eighth Amendment to the US Constitution forbids torture and other forms of "cruel and unusual punishment," as does the Geneva Convention. "It happened. There's no question that we tortured them ourselves and taught others how to torture. We also rendered people, we sent people to other countries where they were in fact tortured there," said Rev. Richard Killmer, the executive director of the National Religious Campaign Against Torture. Although the US Congress demanded more oversight of military training programs in the 1970s, an internal investigation by the General Accounting Office showed that School of the Americas manuals advocated using "torture, truth serum, blackmail and execution." The Pentagon claimed it didn't know what was going on at the School because its staff assigned to review the manuals couldn't read Spanish. United Nations Special Rapporteur on Torture Juan Mendez, himself a survivor of torture under the Argentine military dictatorship, said a lack of transparency in US programs in the 1980s led to further abuse. "In the 1980s, unfortunately the military and police aid was restored and it's been difficult to document to what extent that aid includes techniques that are prohibited by law or international law," Mendez said. It is a legacy that anti-torture activists say sharply contrasts with US rhetoric regarding respect for human rights abroad. "The fact that there is an engagement with police bodies that do substantially practice torture is an embarrassment and perhaps more than an embarrassment to the United States," Mendez said. Torture survivors and religious leaders in Washington DC have come together to demand a full commission of inquiry into what they describe as "torture practiced or enabled by the United States,"…including in its own prisons and by the CIA with detainees. "When President Bush says he's waterboarded and he would do it again and damn right that he had ordered it, it is obviously a very serious problem for the spirit and soul of our country," Killmer said. Aristizabal said the stain of torture not only affects the victim, but those who practice torture as well."When someone is tortured, not only do they have to deal with the big wound left by torture, but the torturer also has to dehumanize himself in order to dehumanize another human being. A society that supports torture is going to pay a very big price as well," Aristizabal said.Human rights attorney Jennifer Harbury says that torture is indeed rampant in the US, albeit unfortunately rarely reported. She adds that "the American government absolutely does not want any proof to go out that we have in fact engaged in war crimes." If it is revealed that war crimes were authorized all the way to the top," she says, than there will be quite a few high-ranking politicians behind bars, including President George W. Bush.