Tarantino sues Florida police over strip search
Published time: 9 Aug, 2012 21:52
Edited time: 10 Aug, 2012 01:52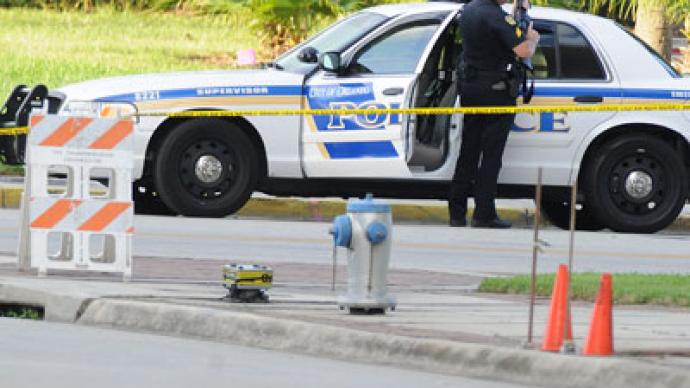 Leila Tarantino was pulled over for rolling through a stop sign last year, but being caught by the cops wasn't what surprised her. The woman has filed a lawsuit because she claims an officer "forcibly" removed her tampon during a strip search.
Attorneys for Tarantino have filed a civil action suit against the government of Citrus County, Florida, Sheriff Jeffrey Dawsey and six unnamed police officers whom she says were involved in an irregular traffic stop last July that constitutes what they believe is excessive use of force.
According to the claim filed last week in US District Court in Florida, Tarantino was detained by police for around two hours on July 17, 2011 after allegedly disobeying a posted stop sign in Beverly Hills, FL. The woman's attorneys claim that a cop had originally flagged their client through the sign after she stopped at an intersection, but immediately after she was pulled over by the same officer, who then approached Tarantino's car at gunpoint.
The claim continues to allege that Tarantino was handcuffed and detained while her children waited in the backseat of her car without ever being charged with a crime. During her detainment, an unnamed Jane Doe officer frisked and strip searched the woman "twice at the side of [a] busy road, in plain view of passersby."
"During one of the strip searches," they claim, Tarantino "had a tampon forcibly removed" by the female officer.
"None of the officers had any individualized suspicion" about the plaintiff, her attorneys write, and the "Citrus County Sheriff's Department had nothing in its policy and procedures manual regarding when and how it is legal and proper for its officer to perform a strip search and its failure to train its officers evinces a deliberate indifference to the constitution rights of Citrus County citizens."
The attorneys are saying that Tarantino's rights are violated multiple times during the incident, during which they say she was unreasonably searched and subjected to intrusive, substantial and unwarranted invasions of privacy. They have demanded a jury trial to try and take the matter to course, where they hope to have the defendants charged with battery and intentional infliction of emotional distress.