Panic switch off: Band tells Romney to stop using their song
Published time: 16 Aug, 2012 04:25
Edited time: 16 Aug, 2012 11:32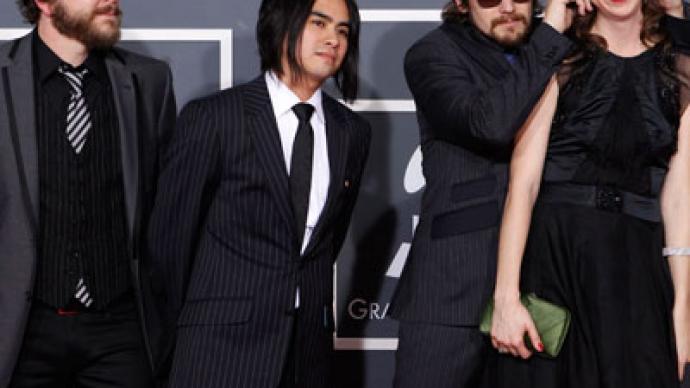 Mitt Romney can now safely put himself on par with Ronald Reagan in at least one area – using the music of artists opposed to his cause. But while The Gipper had a faux pas with The Boss, Romney's campaign took a misstep with The Silversun Pickups.
­The alternative rock band's attorney has sent a cease and desist letter to Romney, while the band stated in a newsletter that neither they nor their representatives were asked for permission to use "Panic Switch," the band's most famous chart-topper. They also noted that were not at all keen to lend their support to the Romney campaign.

"We don't like people going behind our backs, using our music without asking, and we don't like the Romney campaign," Frontman Brian Aubert stated. "We're nice, approachable people. We won't bite. Unless you're Mitt Romney! We were very close to just letting this go because the irony was too good."

Aubert noted that the song's ambiguous lyrics were actually descriptive of Romney's campaign and said the band doubted that the song "really sends the message he intends."

In the 2009 Grammy-winning single, Aubert sings that he "still" sleeps "on the right side of the white noise," that the "red views keep ripping the divide."

The band also supplied AP with a copy of a letter addressed to "Mr. Romney."

"As the former governor (of) the state of Massachusetts, a graduate of Harvard Law School, and candidate for U.S. President, we're pretty sure you're familiar with the laws of this great country of ours," the letter reads. "We're writing because we, like you, think these laws are important."

The Silversun Pickups apparently found out that their song was serving as a soundtrack to Romney's campaign in a tweet from the candidate's stopover in North Carolina.

Andrea Saul, a spokesperson for the Romney campaign, said the song was played during a setup for the campaign event. She stressed that the song was not used intentionally.

"That said, it was covered under the campaign's regular blanket license, but we will not play it again," she added. 
"Panic Switch" is the latest in a list of songs that have been misappropriated by Republican political campaigns.

Ronald Reagan used Bruce Springsteen's "Born in the USA" during his 1984 re-election campaign despite the fact that the lyrics were openly critical of America's actions in the Vietnam War. Springsteen eventually asked the campaign to stop playing the hit at campaign events.  

The Foo Fighters slammed John McCain, the 2008 Republican nominee, for using "My Hero" without their permission.