Ron Paul vs. 'In God We Trust'
Published time: 4 Nov, 2011 16:35
Edited time: 4 Nov, 2011 20:35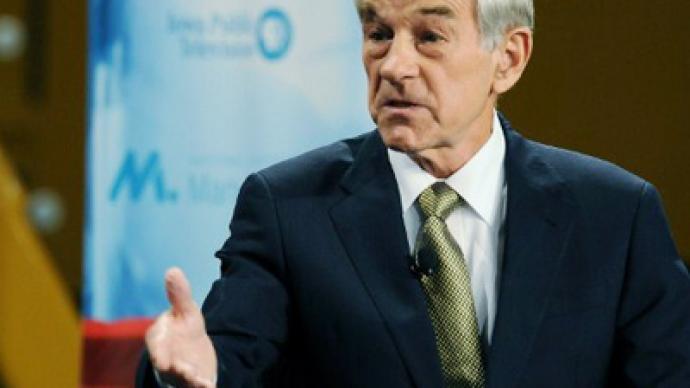 Congressman Ron Paul's presidential campaign duties kept him from participating in the House of Representatives vote on Wednesday, but the GOP hopeful says he is opposed to the recent bill to reaffirm "In God We Trust" as America's motto.
During a House vote on Wednesday, only nine lawmakers voted against reaffirming the slogan to be used in governmental buildings across the United States. Paul was unable to it to Capitol Hill to cast his own voice but says that he would have voted against it.
"I would have voted 'no' not because I don't like the motto and don't think we can use it but 'no' because we were telling the states what to do," Paul tells the news organization The Hill.
President Barack Obama touched on the topic of the House vote during a speaking engagement in Wednesday, saying that he thought Congress had better things to do than to vote on keeping the slogan.
"You had legislation reaffirming that 'In God We Trust' is our motto?" asked Obama. "That's not putting people back to work. I trust in God, but God wants to see us help ourselves by putting people back to work. "
This week's vote marked the third time in under a decade that Congress voted on keeping the slogan.
Commentator Jon Stewart said during a Daily Show broadcast that wasting time to reaffirm the motto was equivalent to "renewing the wedding vows between God and America." His own proposal for a replacement? "America: you've met our drones, now meet our people."
By reaffirming the motto, the country will continue to inscribe it in public facilities and government institutions from coast-to-coast. It has been apparent on US currency during the late 1800s and is currently on all US coins and dollar bills. Officially it has been the US motto since the 1950s.
Of the nine votes against reaffirming the motto, the only nay from a Republican was cast by Rep. Justin Amash of Michigan. Amash has publically supported Ron Paul's bid for the GOP nomination for the presidency.