Professor resigns after falsified AIDS vaccine study wins $19mn grant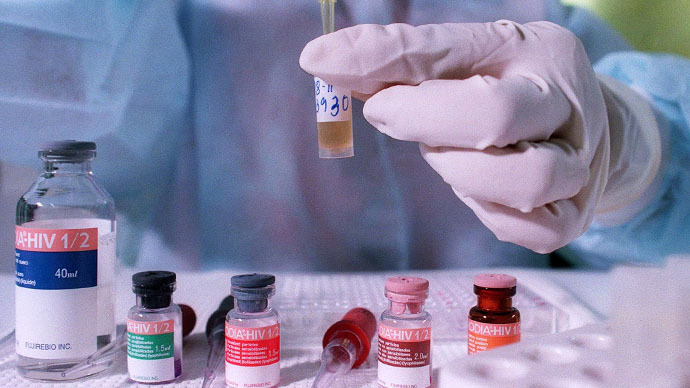 An Iowa State University professor has resigned after admitting that he falsified AIDS research. The academic claimed he had discovered that rabbit blood could be used as a vaccine for the virus.
Dr. Dong-Pyou Han was an assistant professor in biomedical sciences at ISU when he spiked rabbit blood with human blood to make it appear as if an AIDS vaccine was working better than it truly was. Those results helped Han's research team, and ISU, earn $19 million in research grants from the National Institutes of Health, officials told the Des Moines Register.
Dr. James Bradac, one of the heads of the AIDS vaccine grants at the National Institutes of Health, said the human blood came from donors whose bodies had produced antibodies to HIV, the virus that can cause AIDS.
"This positive result was striking, and it caught everybody's attention," Bradac said. "It's difficult to pull something like this off and not be detected. This went on for several years and wasn't detected until January 2013."
Han's boss, Dr. Michael Cho, a biomedical professor who serves as head of the ISU team, told investigators that the team received approximately $10 million of the $19 million prize after announcing the "exciting results," which turned out to be falsified. Approximately $4 million of the grant money has yet to be paid out, and officials said they had not made a decision as to whether it would be.
Dr. Han, who is thought to have hid his deception from the rest of the team, was identified as the suspect in August and resigned in October.
"A large amount of what they were focusing on was flushed down the toilet because of this one guy," Bradac told the Des Moines Register. He added that it would be unusual for a university to refund grant money, though he refused to speculate on this particular case.
Han's findings were first questioned when other universities discovered they were unable to replicate his results when conducting the experiment in the same way.
"At Iowa state's request, the research samples in question were examined by researchers at another university; they confirmed samples had been spiked," said ISU spokesman John McCarroll.
The government announced its findings in a Federal Register report on Monday. The conclusion indicates that investigators found out the results were forged based on an inquiry by the university and a "detailed admission" from Dr. Han earlier this year. Han has agreed to avoid any contracting or subcontracting work with a government agency for three years, and has promised not to serve in any type of "advisory capacity" to the US Public Health Service.