Marine Corps seeks new Amphibious Combat Vehicle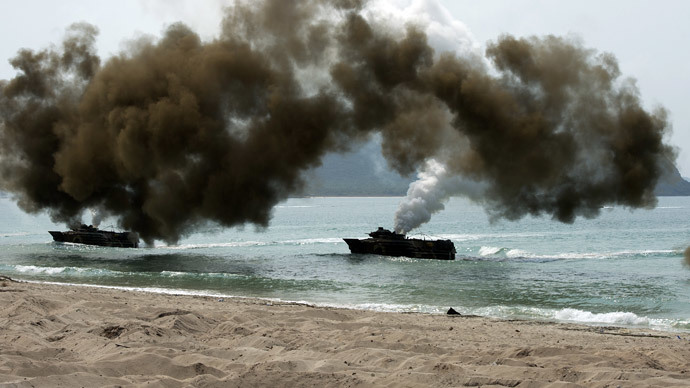 The US Marine Corps is looking to jumpstart a new program that could potentially conclude in the purchase of hundreds of vehicles capable of transporting troops over water and to land.
Over the next few months, weapons manufacturers like Lockheed Martin and BAE Systems will compete to supply the Marine Corps with "amphibious combat vehicles" (ACVs), priced somewhere between $3 million and $6 million each.
Marine Corps spokesperson Manny Pacheco told Reuters that, under the first phase of the ACV program, the plan is to purchase roughly 200 vehicles. Up to 800 vehicles total could be purchased over time, with the service requesting $977 in research and development funding through 2019.
"We look forward to the service's release of their requirements for immediate and future needs," BAE spokeswoman Kristin Gossel told Reuters, adding the company has numerous vehicles it would like to offer the Corps.
According to a report by Defense News last year, the ACV program is intended to replace the Marine Corps' previous Effective Fighting Vehicle (EFV) program, which was ultimately cancelled in 2011 after inefficiently running through a $3 billion budget. With defense budgets expected to fall over the coming years, the service is being careful to get things right this time.
"I'm only going to get one bite at this apple — I don't want to mess this up," Marine Corps Commandant Gen. Jim Amos told the outlet in 2013.
As noted by the online publication Breaking Defense, the ACV 1.1 is a reimagined version of past projects, though the current incarnation won't quite have the same capabilities. The vehicles will be powerful enough "to cross a river or coastal inlet, but not necessarily enough to move from a ship at sea to the beach on their own power. They will probably have to be carried on some kind of landing craft, at least to within a few miles of a beach."
While this project moves forward, Lt. Gen. Kenneth Glueck said the Marine Corps will also invest in research related to a future "high water speed" vehicle.
"The MPC or ACV 1.1 that we're talking about here, it has a robust swim capability," Glueck said on Wednesday. "From all the video that I've seen of the different versions, I feel very confident that you could drive it into the water probably in sea state three [i.e modest winds and two-foot-high waves], and it would go ahead and go to the beach."