LAPD under investigation for woman's mid-arrest death
Published time: 31 Aug, 2012 17:33
Edited time: 31 Aug, 2012 21:33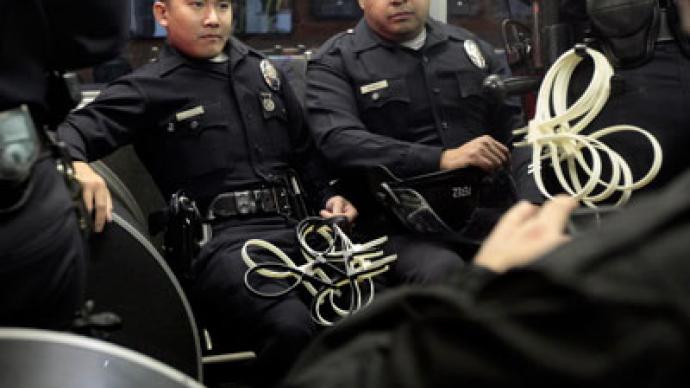 The Los Angeles Police Department has placed no fewer than five of its officers under investigation as law enforcement officials search for answers in the mysterious death of a 35-year-old black mother who died last month while being detained.
The LAPD has opened a probe to see what role, if any, its officers had in the July 22 death of Alesia Thomas. The South Los Angeles resident suffocated to death while in the backseat of a departmental patrol car after officers attempted to detain her for alleged child endangerment.
"I take all in-custody death investigations very seriously," LAPD Chief Charlie Beck said in a statement late Thursday, the LA Times reports.
The police department reports that Thomas left two of her children, ages 3 and 12, at an LAPD station in Southeast Los Angeles in the early morning of July 22. LAPD Cmdr. Bob Green confirms to the Times that Thomas wanted to surrender custody of her children because she was concerned that her addiction to drugs was preventing her from properly caring for them. When she left the station, officers went to her home to question her, then attempted to issue an arrest on suspicion of child endangerment.
Thomas "began actively resisting arrest," the LAPD reports. As a struggled ensued, Cmdr. Green tells the Times that one officer, left unnamed, warned Thomas that she'd be kicked in the genitals for not cooperating. The officer, Cmdr. Green confirms, followed through with the threat.
One officer, Green also admits, told Thomas something along the lines of "get your fat ass in the car" while trying to detain her.
At some point in custody, Thomas stopped breathing. Paramedics were called to the scene and she was pronounced dead shortly thereafter after being brought to a nearby hospital. Now the LAPD is looking into dash-cam footage from the squad car that might offer explanations.
Gerald McCrary Sr., 55, saw the incident unfold, and tells the account that he believes Thomas was the aggressor in the incident. Charmaine Hood, McCrary's live-in caregiver, gives a similar account to the paper.
"I didn't see them try to harm her in any shape or fashion," Hood says. "I seen them protect her from hurting herself."
Others aren't certain, however, which has prompted the LAPD to open a full investigation.
"I am confident we will get to the truth no matter where that leads us," Police Chief Beck added on Thursday.
Beck also gave a full account of what the department says is the course of events that led up to her death, which involved at least five officers attempting to detain Thomas and place her in the car, during which a hobble restraint device was attached to her ankles. Beck also admits that "One officer preformed a leg sweep and took Thomas to the ground to gain control of her."
"An in-car video was reviewed which revealed some questionable tactics and improper comments," a separate statement from the LAPD reads.