Gays protest lack of marriage rights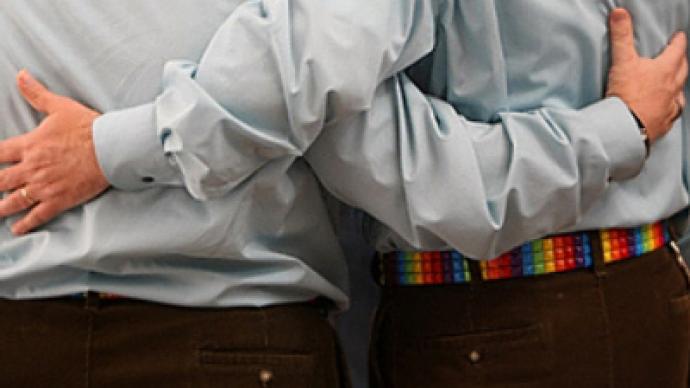 Same-sex couples in the U.S., from San Francisco to New York, appeared at marriage license offices in protest of their lack of marriage rights in 48 of the 50 states.
The protest is centered on Valentine's Day, and is part of the 12th consecutive Freedom to Marry Day.
The event seems to have taken particular importance due to the November passage of Proposition 8, and even sparked questions about the overall direction of the gay rights movement.
"A lot of people feel a sense of determination and regret over having been too complacent or quiet before, so there is a commitment to, 'Never again – we have to take action'," said Evan Wolfson, a civil rights lawyer who conceived Freedom to Marry Day. "In that sense, California was a terrific energizer and a wake-up call."
Couples in California, where marriage had been legal for almost five months before the passage of Proposition 8 changed the law, showed their support for those who were unable to tie the knot before the proposition passed.
"All of our marriages are under the cloud of Proposition 8," said Stuart Gaffney, 45. "Equality is an unfinished business in California."
In Las Vegas, couples gathered with signs reading "Don't hate my love" and "No laws on love". In New York, those showing up asking for marriage licenses were turned away.
Presently, gay marriage is only legal in Massachusetts and Connecticut, while 30 states not only do not have legalized gay marriage, but also have placed bans on it in their constitutions.
However, those on the east coast have been reluctant to go to the two states with legal gay marriage.
"We could get married in Massachusetts or Connecticut, but we'll wait a little and see what happens in New York," said Matt Flanders, 37.
"It's a matter of principle. This is our home, and we should be able to get married where we live, where our friends are," he said.
Movements in other states
On Thursday, Hawaii's House of Representatives voted by a strong majority to allow same-sex civil unions.
In Maine and Minnesota, proponents of gay rights called for same-sex marriage legalisation and some legislators promised to do all they could.
"Those with strong families more than anyone are going to be able to rely on each other," said Minnesota state senator Scott Dibble, who is one of the few openly gay members of the Legislature.
"So why does our own government try to stop that from happening? Why does our own government try to stop us from trying to take care of each other?" he added.
Back in California, arguments are set to be heard next month by the state Supreme Court regarding Proposition 8 and the overall validity of the large amount of same-sex marriages that took place before Proposition 8's passage.
You can share this story on social media: