Some more equal: NYC employees get free gas meant for first responders
Published time: 10 Nov, 2012 23:53
Edited time: 11 Nov, 2012 03:53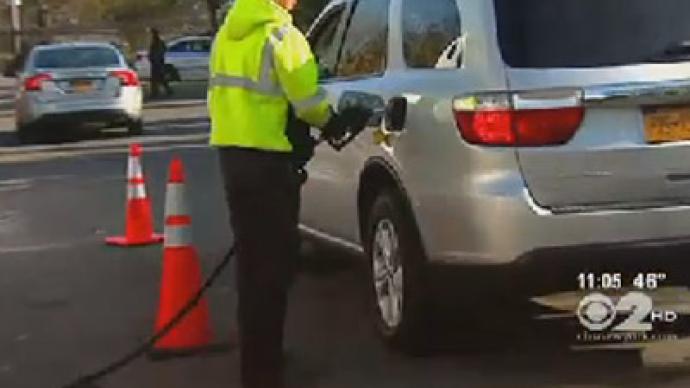 As New York City drivers are dealing with gas rationing, long lines and high prices in the wake of Hurricane Sandy, one gas station seems to be offering a free fill-up to anyone with a city employee ID, a local CBS report says.
­Since Friday, the power-short and fuel-starved city is living under a gas rationing plan, which allows drivers to fill up only every other day. The measure is "designed to let everybody have a fair chance, so the lines aren't too oppressive and that we can get through this," Mayor Michael Bloomberg said.
Authorities say fuel priority should go to first responders – law enforcement agents, firefighters, EMTs and others whose jobs are essential.
But apparently the system has loopholes. CBS 2 television news crew found a gas station in the parking lot at the World's Fair Marina, which appeared there just a few days ago. There they saw not only city-owned cars, but also city employees getting gas for free.
The gas is delivered by the Federal Emergency Management Agency in tanker trucks. Drivers flash their city employee cards to police guarding the station, and an attendant immediately fills up the tank without taking a dime, the report says.
New York City spokesman Marc Lavorgna told the journalists that there are supposed to be limits for those who use personal cars.
"There's an approved list of city employees, contractors, engineers, nurses, doctors as well as police officers, firefighters that are able to get fuel at the city sites to make sure we can continue to carry out critical city operations," he assured, but said he could not explain if and how it was enforced.
Customers at the station interviewed by CBS 2 included a NYC Parks engineer, an FDNY administrator, and a NYC special events coordinator. Some agreed that their getting gas for free while other New Yorkers paid skyrocket price was not fair. Others insisted that it was about getting the gas at all, not about not paying for it.

"If there is a breakdown in that system we'll take a look at it, but we have a wide array of needs and a wide array of employees that are needed in all kinds of skill sets," Lavorgna said.
The report says some of the people waited as long as three hours for the free gas.