Congressional leaders reach deal to extend Patriot Act
Published time: 20 May, 2011 16:02
Edited time: 20 May, 2011 20:26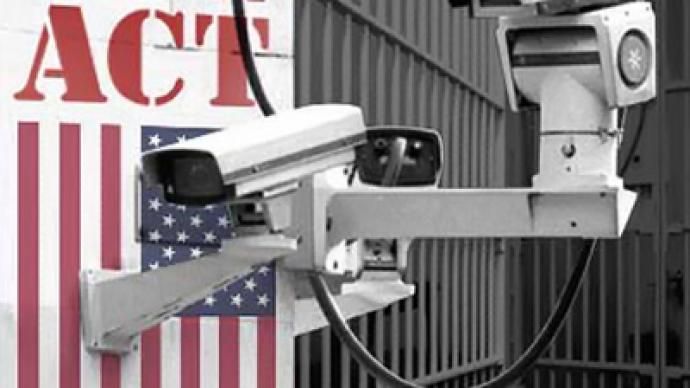 US Congressional leaders in both the House and Senate have reached a deal to further extend the controversial US Patriot Act for another four years.
Key provisions of the law were set to expire on May 27. The extension keeps them in place for another four years. The deal will allow the government to continue to force private businesses to hand over records, grant warrantless wiretaps, and monitor any individual suspected of terrorist for any reason.
The deal was worked out between Republican House Speaker John Boehner, Democratic Senate Majority Leader Harry Reid and Republican Senate Minority Leader Mitch McConnell. The proposal will not need to pass both the House and Senate within the next seven days to avoid a lapse in the law.
"Senators Reid and McConnell have introduced a clean, four-year extension of the Patriot Act, one of the critical tools the intelligence community has to keep America safe. The Senate will consider this legislation next week," said Michael Brumas, a McConnell spokesman.
The Bush-era security measure has faced tougher opposition this year than in previous legislative sessions. A number of libertarian and Tea Party Republicans oppose the measure and have fought against it. The bulk of Democrats and Republicans however continue to support the anti-terror rule that many argue limits American civil liberties.
The majority of lawmakers do not favor permanent legislation, which is why the deal reached is for only four years. In addition, the deal means a vote to extend the measures again will take place during 2015 – a non-election year.
Civil liberties groups are angered by the compromise and argue a greater debate needs to be had in Washington.
"That is how the Patriot Act first came into being 10 years ago—without meaningful debate," said the Bill of Rights Defense Committee in a released statement. "Today, despite the prior approval of the Senate Judiciary Committee of a bill introduced by Senator Patrick Leahy (D-VT) to impose some (albeit inadequate) reforms, the congressional leadership is dictating the result of a long overdue policy debate that has never happened."