Clinton's realpolitik vs. Obama's diplomacy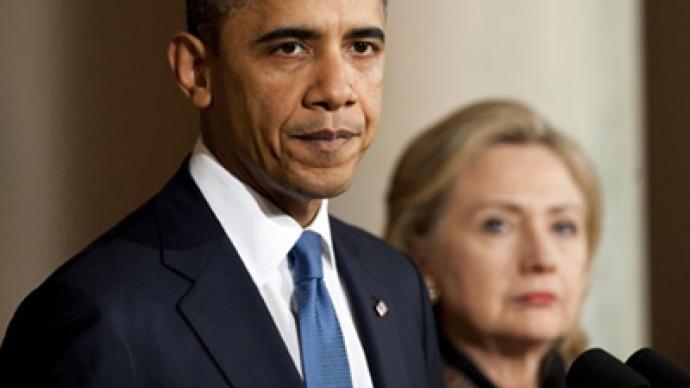 Obama believes in the concept of US democracy and diplomacy vaguely assisting the world. Clinton on the other hand seems to be more direct about US interests, expressing that the US is at risk of falling behind in the global battle for influence.
Citing China's influence over islands in the Pacific and the development of Papua New Guinea's expanding energy reserves; US Secretary of State Hillary Clinton has expressed an interest in a return to realpolitik to secure American interests abroad as opposed to focusing on non-invasive humanitarian diplomatic aid."Let's put aside the moral, humanitarian do-good side of what we believe in and let's just talk straight realpolitik," remarked Clinton, speaking to a congressional committee. "The United States is helping to lead an international effort to deter further violence, put in place unprecedented sanctions to hold the Gaddafi government accountable, and support the aspirations of the Libyan people. We are also responding quickly to the urgent humanitarian needs that are developing," US President Barack Obama said. Investigative journalist Wayne Madsen explained Clinton's argument is probably most advancing the US agenda, and is reminiscent of Henry Kissinger. Obama often speaks of diplomacy and humanitarian policies, but the reality is his policies are closer to realpolitik, argued Madsen."Look at the reality of his administration's politics. We see backing for a lot of regimes around the world, we even saw this kind of schizophrenia over Egypt where Frank Wisner was sent over there, Biden, all these people were saying nice things about Mubarak, and of course Mubarak was gone. And the rhetoric doesn't match our policies toward the regime in Yemen for example, which is a close US military ally," he said.The US has a disjointed foreign policy, Madsen explained. It's seen by many elsewhere as absolute "pandemonium" which leaves many wondering what the US foreign policy truly is. Citing the split in the US handling of Egypt and Libya, Madsen explained it is confusing to many what the US stands for, as its actions often contradict the rhetoric and change daily based on locations. US policies need to be clear and address global issues and best interests, as opposed to special interest groups.
You can share this story on social media: