Entrapped Cleveland anarchists sentenced for WMD conspiracy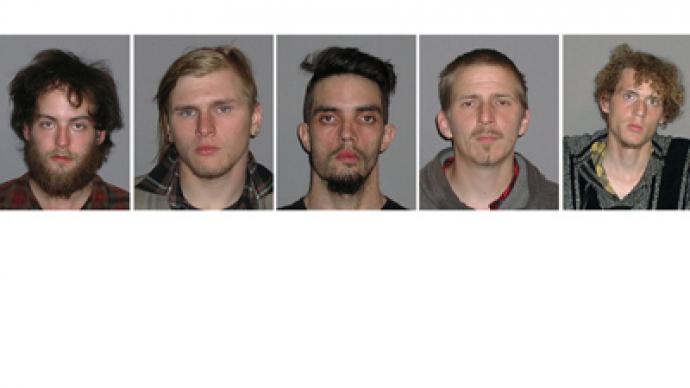 Three of the suspects accused of plotting to blow up a bridge near Cleveland, Ohio were sentenced in federal court on Tuesday to no fewer than eight years apiece behind bars.
Douglas Wright, 26, will serve more than 11 years in prison this week — 138 months, to be exact — for his role as the supposed 'ringleader' behind an unsuccessful plot hatched by self-proclaimed anarchists to destroy a major bridge over the Cuyahoga River. His cohorts Brandon Baxter and Connor Stevens, both 20 years old, were sentenced to roughly 10 and eight years, respectively, for their role in the plan. Stephen D. Anthony of the Cleveland Division of the FBI said early on in the investigation that "The individuals charged in this plot were intent on using violence to express their ideological views," and prosecutors said that they hoped that by doing so they would "send a message to corporations and the United States government." That case has come under scrutiny from some, however, who have called into question the Federal Bureau of Investigation's own role in advising the accused terrorists in the days before they were expected to act. According to the FBI's investigation, Wright and his colleagues were coached into plotting an attack on the Valley View Bridge over the Cuyahoga River after an undercover source working for the feds infiltrated their social circle and offered to help them obtain explosives. The court has admitted that Wright initially suggested the group use items such as stink bombs or paint guns to wage a more low-profile attack that would get the attention of the government. After being repeatedly coerced by the confidential source to consider something bigger, though, Wright and his peers purchased from an FBI agent what they were told were explosives. From there, they were busted in late April."The problem with the cases we're talking about is that defendants would not have done anything if not kicked in the ass by government agents," attorney Martin Stolar told Mother Jones during a piece last year about the FBI's endless entrapment cases. "They're creating crimes to solve crimes so they can claim a victory in the war on terror."According to Mother Jones, of around 500 prosecutions in recent years relating to terrorism charges, the FBI relied on informants for about half of them. Of the 158 prosecutions that ended in convictions they analyzed, around one-third acted on plots perpetrated by federal agent provocateurs. In the case of the men from Cleveland, Wright admits to having wanted to act in some way that would spook the government, but only after the FBI coerced him into taking down a bridge did he take their bait.Federal prosecutors had hoped for lengthy prison terms for the men because they had plotted an alleged act of domestic terrorism. Attorneys for the defense shot down that allegation though, and a statement from the presiding judge himself seems to suggest that the court wasn't willing to adhere to the FBI's demands."The lengthy period of incarceration would likely persuade the defendant to not participate in any further criminal conduct," Judge David Dowd told those on hand early Tuesday at an Akron, Ohio courthouse. The judge had the option of sentencing to the men for as many as 33 years in prison since they've already pleaded guilty to conspiring to use a weapon of mass destruction in an attempt to destroy a bridge carrying interstate commerce.The Cleveland Plain-Dealer reports that Judge Dowd said, "I know the government is going to disagree" with his proposed sentence, "But I think that it is an appropriate downward variance and likely will act as a deterrent against future criminal conduct."Attorneys for the defendants also told the court that they couldn't agree with the way the government was seeking harsh sentencing for men practically coached by the FBI into orchestrating an attack."The government has every right, every duty to trap terrorists. I don't dispute that for one second. I grew up in a country where farmers trap destructive rodents; they sometimes trap curious cats. Brandon Baxter is more a curious stray cat than a destructive rodent," defense attorney John Pyle said of Baxter.An attorney for Wright told the courtroom, "This young man is not a cold-blooded terrorist."Speaking after Tuesday's sentencing, Wright told the court, "I want to apologize to the community, everybody in the Cleveland, Akron area.I wanted to apologize to my friends and family for having to put everybody through this."Baxter also offered an apology, saying, "I would like to acknowledge the fact that I recognize and understand that if the devices were real, this would not be a victimless crime.""I would like to apologize to the people in the communities that use the Route 82 bridge on a regular basis. If this had gone through, this would have been a detriment to everybody," he said. Anthony Hayne, 35, is expected to be sentenced on Wednesday for his role as a would-be bombers tied to the plot. Joshua Stafford, 23, must finish screening to determine his mental competency before he is in court for having an alleged role.
You can share this story on social media: