Che-in-a-skirt returns to America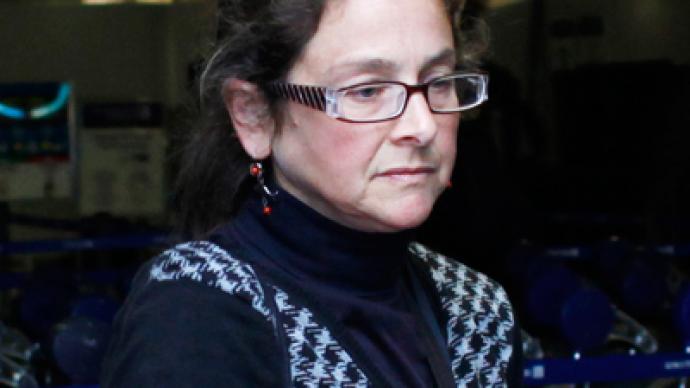 More than 15 years after being arrested for allegedly aiding Peruvian terrorists, American-born Lori Berenson arrived home in New York City on Tuesday for the first time since 1995.
At age 26, Berenson was accused and subsequently arrested for her involvement in a plotted takeover of Peru's Congress along with a regime led by the Tupac Amaru Revolutionary Movement. Now at 42, she is the mother of a toddler and just last year was freed early of her 20-year sentence. Per Peruvian law, however, she must stay in Latin America until the full term of her sentence expires, lest the country's president allows for early release. Now free from imprisonment and the mother of a small child, the country has allowed her to visit her family back in America.
"This is not a political time; this is a time for family, friends and holidays," Berenson's mother, Rhoda Berenson, said before her daughter landed at Newark airport on Tuesday. Lori Berenson was expected to meet with family members that she had not seen in decades. "We are looking forward to the first holiday at home in a long, long time, and many relatives who haven't met Salvador are excited to see him," her mother told the Associated Press from Newark. Her daughter refused pleas from the press to talk en route to her home with her 2-year-old son, Salvador.
Lori and Salvador Berenson will have to return to Peru in mid-January where she is expected to spend the next few years. Before her sentence was reduced, she was serving life imprisonment behind bars.
In the 90s, Berenson left Massachusetts Institute of Technology and traveled to Peru as a journalist. There she resided in a home which doubled as a safe house for Amaru forces where they stockpiled a cache of weapons. The Amaru legion was relatively peaceful in comparison to other revolutionaries acting in Latin America at the time, but Berenson's ties were enough for the Peruvian government to put her behind bars for two decades. A year after she was apprehended, rebels linked to Amaru stormed the Japanese Embassy and held 72 hostages for four months.
While initially dismissing allegations of ties with Amaru, last year Berenson told the AP that she tried to help the group settle its differences with the Peruvian conflict. She denied allegations that Amaru was a terrorist, instead relating him as more of a revolutionary.