​California seeks to phase out cancer-causing toxins from consumer products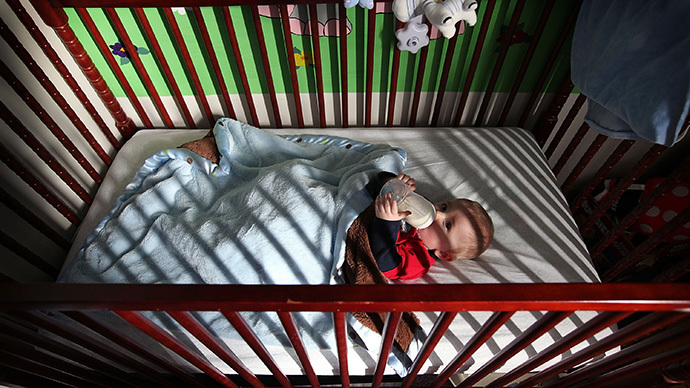 California has announced it will begin requiring manufacturers to reduce toxins in children's sleeping merchandise and some household items. The unprecedented program aims to eliminate common use of chemicals known to cause cancer, among other illnesses.
The California Department of Toxic Substances advanced on Thursday the Safer Consumer Products program, which will aim to find safe alternatives for damned toxins while pushing "manufacturers to answer two questions: 1) Is this chemical necessary? 2) Is there a safer alternative?" according to the Department's website.
The products included in the first round of the program contain chemicals that are linked to cancer, hormone imbalances, and harm the environment.
"I can't even tell you what a big deal this is," said Kathleen Curtis, of the Alliance for Toxic-Free Fire Safety, according to the Bay Area News Group. "It's huge, and it's a super smart strategic move by the state of California."
State regulators said the top priority chemicals they would like to reduce or eliminate completely from products sold in the state include widely-used flame retardant TDCPP, commonly known as Tris, which is found in children's bedding materials such as nap mats, cots, cribs, playpens, and bassinets.
According to the National Research Council, TDCPP has been linked to cancer in rats, and it is already on the state's Proposition 65 list of substances that are known to cause cancer. Bay Area News Group noted an identical chemical was outlawed from children's pyjamas in the 1970s, when the state first noticed its association with cancer.
"You don't keel over dead, no, but years later, you can't have children or your kid has cancer," Curtis told Bay Area News Group.
Many flame retardants have been found to be highly ineffective at reducing fires; all while being associated with dangers to health.
The two other priority chemicals the program will target are diisocyanates and methylene chloride. Diisocyanates are found in spray polyurethane foam used to weatherize buildings. The chemical is linked to cancer, lung degradation, asthma, and other respiratory illness.
Methylene chloride is a carcinogen found in paint and varnish strippers and surface cleaners. The chemical is "acutely toxic to the nervous system," state regulators say, because it "is metabolized to carbon monoxide in the body and can cause severe cases of carbon monoxide intoxication."
The Safer Consumer Products program represents a win for environmental health and safety advocates, especially since products made for California, the largest economy in the US, will likely impact how products are made and then sold throughout the country and beyond.
For example, the children's bedding requirements will likely push furniture and mattress producers to also change other products, advocates say.
"It will have a ripple effect though the larger industry," said Janet Nudelman, director of program and policy for the Breast Cancer Fund. "It's a brilliant one-two punch."
State regulators said Thursday's announcement will begin what is likely to be a yearlong process that will include a public comment period, meetings with manufacturers, and further studies of what can be used as safe replacements for the harmful substances.
The state is expected to release in October a second, lengthier list of chemicals and products to target. Manufacturers that do not meet the requirements will have to label their ingredients or even have their products banned from California beginning in 2016, at the earliest.
The American Chemistry Council, a trade group for US chemical companies, said in a statement that "we share the goal of chemical safety but are disappointed that [Thursday's] announcement included products that are already being actively evaluated by the U.S. Environmental Protection Agency."
California officials and advocates, though, say the federal government is far behind in assessing their current chemical regulations.
"Unfortunately, federal reform of the way these chemicals are regulated is stalled, and these laws have not been updated in 30 years," said Meredith Williams, deputy director of the Department of Toxic Substances Control.
You can share this story on social media: