Picketing port employees enter 6th day of talks amid $1 billion per day strike
Published time: 2 Dec, 2012 20:40
Edited time: 3 Dec, 2012 03:50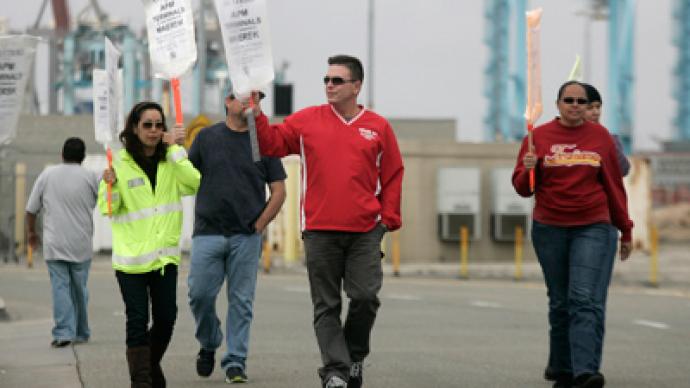 Clerical employees are expected to resume talks demanding better job security at twin ports in the Californian cities of Los Angeles and Long Beach on Sunday. Workers have been on strike for six days, with no agreement in sight.
Negotiations stretched until 9:15pm local time on Saturday, but no solution was reached. Talks are scheduled to resume on Sunday.
Employees have been on strike since Tuesday, in an effort to secure contracts which will lead to increased job security. The workers have been operating without a contract since June 2010. They have accused terminal operators of outsourcing clerical jobs to other states and even overseas.
Port managers have denied the allegations, saying they have offered lifelong job security to all full-time clerical workers, who typically make more than $160,000 per year.
Negotiator Stephen Barry, who represents the port managers, called the clerical workers "irresponsible" in a statement.
He said management offered the workers a contract which provides "absolute job security," an average annual compensation of $195,000 by 2016, 11 weeks paid vacation, and pension improvements.
The strike, which is being led by Office Clerical Unit (OCU) of the the International Longshore and Warehouse Union (ILWU), has shut down ten of the affected ports' 14 container terminals.
The action is costing an estimated $1 billion per day in lost wages for 600,000 dock employees, truckers, and other workers not involved in the strike. Money has also been lost from diverted cargo which is being sent to other ports.
The strike has almost brought two ports to a standstill, with at least 18 cargo ships being unable to load or unload since the action began on Tuesday.
Together, the two ports make up the nation's busiest cargo complex and handle 40 per cent of import trade in the US. The strike could have detrimental effects for retailers throughout the country.
"Retailers will have stock outages and lost sales for products not delivered. There will be shutdowns in factories and in manufacturing, when they run out of parts," economist from consulting firm CDM Smith, Paul Bingham, told the LA Times.