Blacks vote more actively than whites for the first time
Published time: 29 Apr, 2013 16:35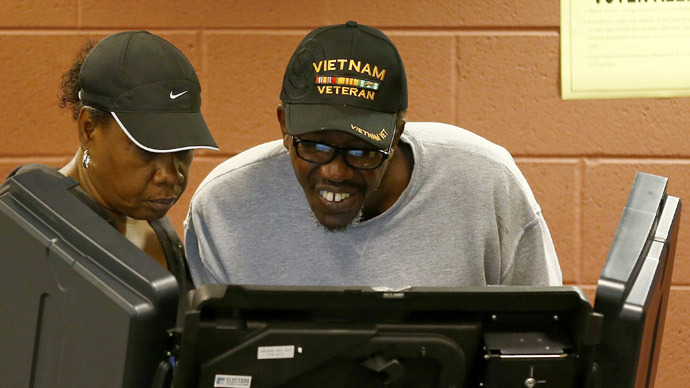 For the first time in US history, the black voter turnout rate surpassed that of whites in the 2012 election. If black turnout had been the same as the 2004 election, Mitt Romney would have won the presidency.
The rate of minorities who participated in the November election was historic and largely affected the outcome of the vote, according to a new analysis conducted for the Associated Press.
Preliminary data shows that African Americans represent 13 percent of all votes cast in 2012, even though they only make up 12 percent of the total population. President Barack Obama was reelected by a margin of 5 million, but would have narrowly lost to Romney without the high turnout of black voters.
The overall voter turnout was 58 percent, which is down from the 62 percent that cast their ballots in 2008 and the 60 percent that did so in 2004. And while the overall turnout decreased, black and minority voter turnout rates increased.
"The 2012 turnout is a milestone for blacks and a huge potential turning point," Andra Gillespie, a political science professor at Emory University, told AP. "What it suggests is that there is an 'Obama effect' where people were motivated to support Barack Obama. But it also means that black turnout may not always be higher, if future races aren't as salient."
In the 2012 election, 93 percent of African Americans voted for Obama, in large part because of Romney's inability to attract minority support. Even though Obama ran for re-election while unemployment remained high and opponents criticized him for his failure to get things done, African Americans demonstrated a strong desire to re-elect the first black president. During the election, 22 percent of black voters waited 30 minutes or more to cast their ballots, compared to just 9 percent of white voters, according to a Hart Research poll.
"I got the feeling Mitt Romney couldn't care less about me and my fellow African Americans," said 27-year-old Lauren Howie, an administrative assistant at Case Western Reserve University's medical school.
"A white Mormon swimming in money with offshore accounts buying up companies and laying off their employees just doesn't quite fit my idea of a president," she said. "Bottom line, Romney was not someone I was willing to trust with my future."
"It remains to be seen how successful Democrats are if you don't have Barack Obama at the top of the ticket," he said.
The black turnout was high even despite voter ID laws that made it more difficult to prove voting eligibility and primarily affected minorities. In late 2012, courts blocked or delayed the implementation of some of these laws, and African Americans still turned up at the polls in historic numbers.
Demographers expect that the minority vote will become increasingly important with every passing election, and that candidates who don't appeal to African Americans or Hispanics will not be able to make it into the White House. 
"The 2008 election was the first year when the minority vote was important to electing a U.S. president. By 2024, their vote will be essential to victory," William H. Frey, a demographer at the Brookings Institution, told AP. "Democrats will be looking at a landslide going into 2028 if the new Hispanic voters continue to favor Democrats."
For the first time since the passage of the Voting Rights Act in 1965, the African American voter turnout was so significant that future elections will largely depend on addressing their concerns.